James Corden performed a dance routine with Princes Harry, William and Charles at Royal Wedding reception
21 May 2018, 09:17 | Updated: 21 May 2018, 10:48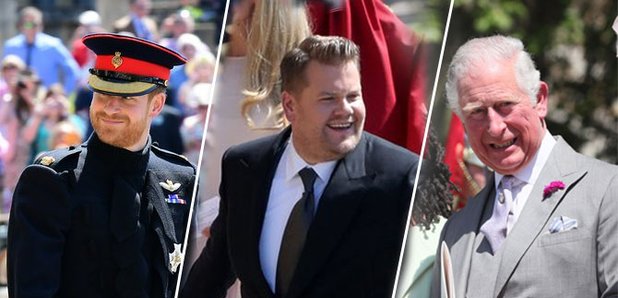 The Late Late show host had guests in fits of laughter as Master of Ceremony at the evening reception, as new details about Prince Harry and Meghan's party have been revealed.
James Corden was asked by the couple to be Master of Ceremony at the evening reception, and Prince William raised a few eyebrows with a very naughty best man's speech.
Prince Harry, 33, joined his brother William and father Charles, 69, for an impromptu dance masterminded by James Corden, as the Late Late Show host helped kick off the afterparty for just 200 guests at Frogmore House in Windsor.
New details reveal Corden played referee to a 'dance-off' between the father-son trio as royals and a number of A-Listers let their hair down and partied into the early hours of the morning.
The Music
The intimate evening reception hosted by Prince Charles saw royal favourite DJ Sam Totolee - who also performed at Pippa Middleton's wedding - spin his favourite house tracks, before a rumoured set from actor Idris Elba, who also attended the nuptials at St. George's Chapel in Windsor.
Family friend Elton John treated pals to a mini-concert after Prince William cheekily asked guests "Does anyone here know how to play the piano?"
The 71-year-old musician then performed a string of hits including 'Tiny Dancer', 'Circle of Life' and 'I'm Still Dancing.'
The First Dance
Prince Harry and Meghan, 36, chose a non-traditional song for their first dance, with the pair cutting up a rug to Whitney Houston classic I Wanna Dance With Somebody.
Harry wasn't the only one to bag a dance with Meghan, as it's also been reported a "worse for wear" George Clooney swept Meghan off for a dance before turning his attentions to the Duchess of Cambridge.
Drinking Games
Among the famous faces to join the couple at the reception were tennis pro and close pal Serena Williams, who reportedly "thrashed" everyone at a game of Beer Pong.
There's no doubt the tennis star's fierce serves would have come in handy during the American drinking game which sees players try and sink ping pong balls into their opponents cups, forcing them to down their entire drink.
Alcohol was flowing at the reception, with guests treated to a "world-themed bar" which featured a special cocktail 'When Harry Met Meghan' in honour of the couple.
The Speeches
Earlier in the day, Harry and Meghan were joined by 600 guests, who gathered at a wedding breakfast hosted by The Queen at Windsor Castle.
It appears Prince Harry's wedding speech went down a storm with guests, as he reportedly garnered cheers from the crowd after referring to Meghan as his wife for the first time.
The handsome royal impressed with an "off-the cuff" speech as he praised the former actress for "navigating everything with grace" following a hectic week which saw her father fail to walk her up the aisle due to a last-minute heart operation that prevented him from flying in for the nuptials.
Harry reportedly told his new wife: "We make such a great team. I can't wait to spend the rest of my life with you."
Prince Charles also had guests in tears as he delivered an emotional speech just hours after walking Meghan down the aisle, in which he referred to his son as "my darling old Harry" before making embarrassing jibes about the royal as a baby.
Prince William made sure to roast his brother during his "naughty speech" before best pals, Thomas 'Skippy' Inskip and Tom Van Straubenzee paired up for a joint effort - although details about Harry's wild 2012 trip to Las Vegas was strictly off limits.
The night reportedly finished at 2am, with some blurry eyed guests reportedly heading back to London to continue the party at swanky venue Chiltern Firehouse.
The new Duke and Duchess spent their first night together at Windsor Castle following the bash but will have to make a speedy recovery as they are due to make their first appearance as a married couple when they attend Prince Charles' 70th patronage garden party at Buckingham Palace on Tuesday.