These Stolen Moments Completely UPSTAGED The Queen's 90th Birthday Celebrations.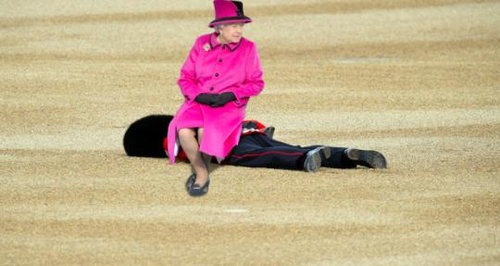 The Queen is very rarely upstaged, but this weekend her 90th birthday set tongues wagging for very different reasons...
Man Down! Fallen Troop Goes Viral!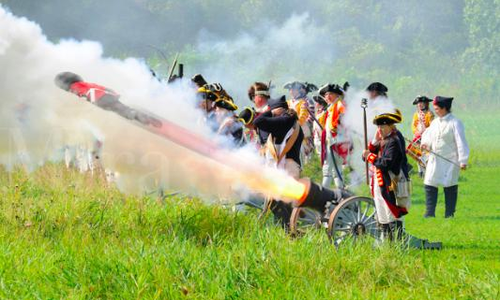 Marching in front of Her Majesty, is probably one of the most important moments in a Royal Guard's life, however one poorly troop attracted attention for all the wrong reasons when he appeared to faint during the lengthy ceremony at St.Paul's and was eventually removed by a stretcher.
Whilst we felt a little bad for the guy, it didn't take long for the image to spread like wildfire across the internet with many using the opportunity to create some hilarious memes.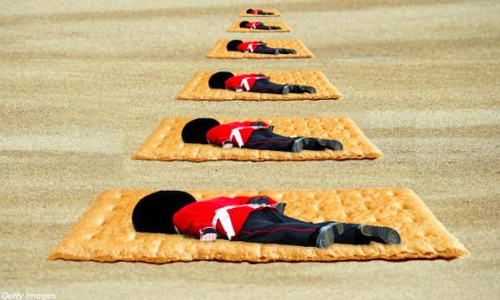 Collapsing face first onto the sofa after hard days work, being shot out of a cannon and being spread on some tasty crackers were just some of the eye-wateringly funny gags plastered all over Reddit.
The Queen's Dress: In or Out?
Forget Brexit, it seems as though the Queen's choice of outfit was the real issue dividing the nation. Her Majesty opted for a neon green suit dress (with a matching hat, of course!) and the outlandish choice of colour raised more than a few eyebrows.
One fan, even called for Dulux to make a new colour in honour of Her Majesty's whacky choice of colour.
@duluxuk here's an idea for a new colour - #QueenGreen pic.twitter.com/6tCg1pIK62

— Philip Coates (@coatsyphil) June 11, 2016
A suggestion which didn't fall on deaf ears, as Dulux jokingly claimed the eagle-eyed viewer was onto something.
@coatsyphil We like it Phil! You're a poet and don't even know it! Helen.

— Dulux (@duluxuk) June 11, 2016
Well, how could we expect anything less? This is the woman, who reportedly once claimed: "I can never wear beige because nobody will know who I am".
The Queen's dress at #TroopingtheColour was amazing. #TheQueens90thBirthday pic.twitter.com/LhZ3cDjUsi

— Gavin (@GavinWorby) June 11, 2016
Yaaaas Queen! The world is your stage dahhhling, so give them a show!
Like Mother, Like Son... Kate and George Give A Lesson In Recycling.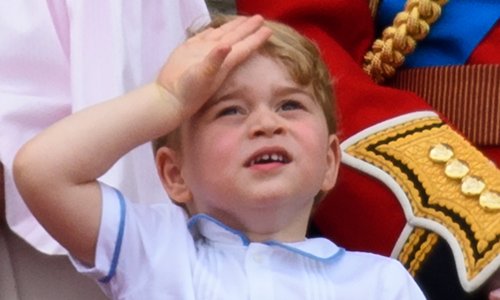 His mother the Duchess of Cambridge is known for being thrifty when it comes to fashion, and it seems as though Prince George will be learning a few tricks of the trade too, as he'd been dressed in an adorable blue and white shirt with matching shorts that were once worn by his father Prince William at Harry's christening in 1984.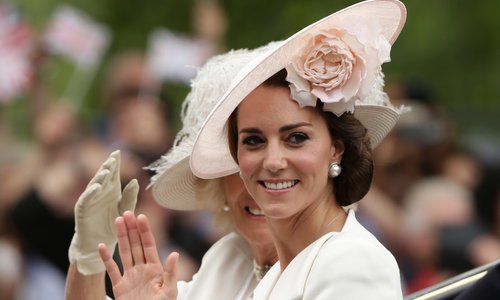 Meanwhile, Kate showed of her recycling skills as she opted to re-use a cream Alexander McQueen coat that she's previously worn to Princess Charlotte's christening last year.
This time the stylish royal decided to update the look with an angular pink hat featuring adorned with a large fabric rose.
With all those mishaps, something tells us the Queen wouldn't have been happy about being upstaged at her own event!