The Queen And Sir David Attenborough Are Teaming Up!
9 November 2017, 13:44 | Updated: 13 November 2017, 15:46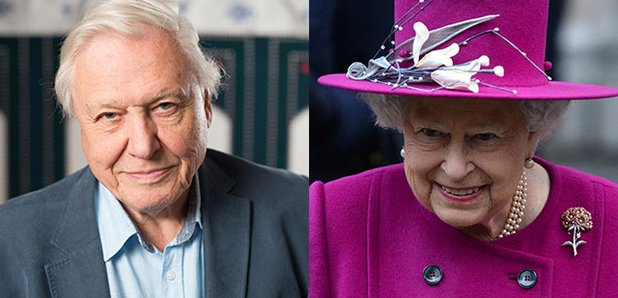 Now this is one classy combo.
The first episode of his new wildlife series Blue Planet II was the most watched programme of 2017 so far with 14.1 million people. Now Sir David Attenborough, 91, has a new project featuring another national treasure.
The Queen, who is also 91, will join the naturalist in a new documentary to be shown on ITV in 2018. She obviously realised that it's been five years since her scene-stealing moment with OO7 at the London Olympics. "Time to team up with another one of my favourite subjects," she no doubt mused to her Corgis.
The documentary will follow the progress of Her Maj's ambitious initiative to create a global network of protected forests, The Queen's Commonwealth Canopy, a conservation project aimed at raising awareness of the value of indigenous forests, and of preserving them for future generations.
It's an ambitious undertaking – the plan is to create a network of national forest parks that span the 52 countries of the Commonwealth.
Her Majesty The Queen and Sir David Attenborough are to appear together in a documentary to be screened in 2018. pic.twitter.com/2bB9Nrlce7

— The Royal Family (@RoyalFamily) November 9, 2017
We're looking forward to one of the highlights of the documentary, which is a unique and informal conversation between The Queen and Sir David Attenborough, filmed in the grounds of Buckingham Palace. It's reported that they will discuss trees, their shared interest in nature and conservation and the new project.
In November last year a reception was held at Buckingham Palace to showcase forestry projects dedicated to The QCC. Find out more here: https://t.co/Yz2SATI0TN pic.twitter.com/sPKLOTbslV

— The Royal Family (@RoyalFamily) November 9, 2017
According to the Daily Mail, the new besties had a laugh while filming the documentary. The pair will be seen chatting in the grounds of Buckingham Palace when Sir David says that because of climate change, "There will be all kinds of different trees growing here in another 50 years' time."
The Queen replies: "I won't be here though,'" causing her guest to burst out laughing.
Just in case anyone felt a bit gloomy about that prospect, she then lightens the mood by pointing out a bent sapling and asking someone off camera: "Is it meant to be like that? Somebody sat on it I think at a garden party."