This is the tragic reason Prince Philip walked behind Princess Diana's coffin
27 September 2018, 16:03 | Updated: 22 October 2018, 17:12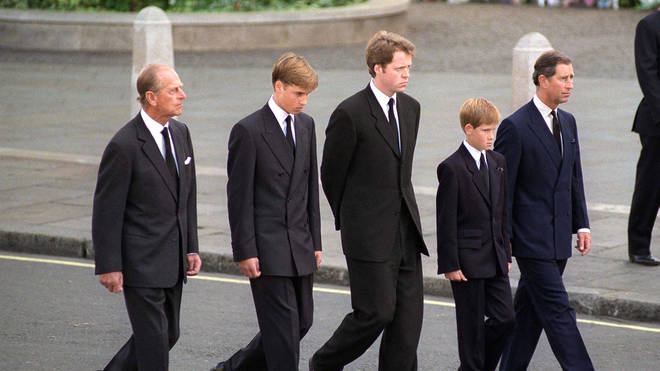 The Duke of Edinburgh supported his young grandson's through their grief
Prince Philip surprised several royal fans at Princess Diana's funeral in September 1997 - because he joined Diana's brother and Princes Charles, William and Harry by following her coffin on the walk from St. James's Palace to Westminster Abbey.
Royal author Ingrid Seward's latest book - My Husband and I: The Inside Story - documents the immediate aftermath of Diana's tragic death and how Prince Phillip supported his grandsons at a time of immense grief.
Seward explains that Diana's brother, Earl Spencer, felt that he should be the sole person to follow his sister's coffin, but the royal family strongly disagreed.
Charles believed that it would be a "mark of respect to an ex-wife and departed mother" for him and Princes William and Harry to walk behind.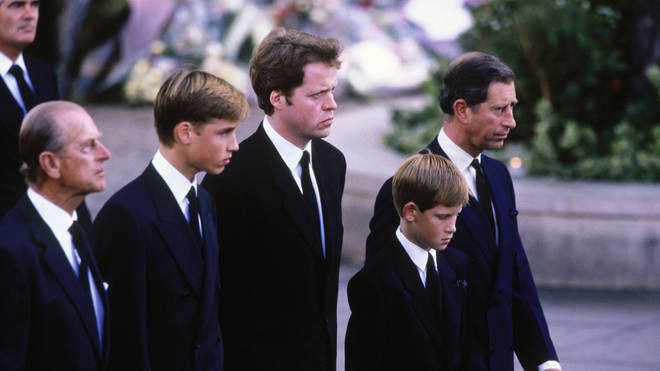 But Prince William took some persuading and it was his grandfather who encouraged him to take part.
Seward explains: "At first William flatly refused. Charles pleaded with him and said that it would be utterly wrong of him not to accompany them.
"... Prince Philip weighed into the argument and eventually William agreed to take part - but only on the condition that his grandfather walked beside him."
While it's been reported that Diana's own relationship with the Duke was strained at the time of her death, the Queen's husband stepped up to support his grandson.
Seward writes: "Diana had grown to dislike Prince Philip intensely - and he her - but Prince William was devoted to the old man.
"William wanted his grandfather at his side in what was certain to prove the most harrowing public engagement the young man had had to endure."