This Royal Brit Beat Hillary Clinton To The Top!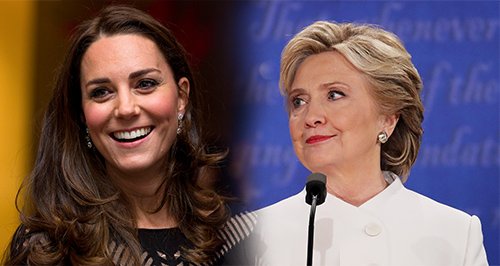 The Duchess of Cambridge topped the US politician in this incredible list!
In a recent survey to find out the 50 most inspirational women of all time Kate Middleton emerged ABOVE Hillary Clinton!
Both women have made quite the stir across the globe in recent years and rightly deserve their place on the list alongside other incredible female figures.
Other women to feature on the line up include Nobel Peace Prize winner Malala Yousafzai, Serena Williams and Mother Teresa.
The Duchess of Cambridge was highly ranked but not quite up to the top spot which was deservedly awarded to Polish physicist Marie Curie who is famed for her pioneering research into radioactivity.
She was the first female to win a Nobel Prize and pipped the mother of the nursing profession, Florence Nightingale, into second place.
The poll of 2,000 people was conducted by Your Life, a campaign to encourage teens to study Maths and Physics past 16 years old.
Another inspirational figure to rank highly was teenager Ann Frank who is famed for the diary she kept whilst hiding during the German occupation of the Netherlands in World War 2.
See the full list of the top 50 most inspirational women of all time on the Your Life website.