Thomas Markle made Prince Harry promise this one thing before marrying Meghan
19 June 2018, 10:22 | Updated: 19 June 2018, 11:50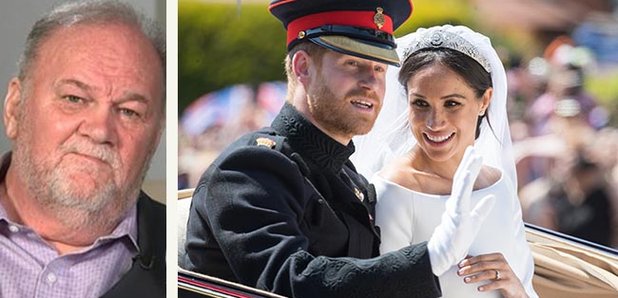 In his first ever TV interview, Thomas spoke openly about his new son-in-law and his pain at missing the Royal Wedding.
Thomas Markle made Prince Harry promise to never hit Meghan before giving his blessing for him to propose.
Speaking on Monday's Good Morning Britain, he said: "Harry asked for her hand on the phone and I said, 'You are a gentleman, promise me you will never raise your hand against my daughter, and of course I will grant you my permission'."
Thomas, who was due to walk the former Suits actress down the aisle, missed the wedding after undergoing heart surgery.
The Duchess of Sussex confirmed two days before the wedding that her father would not be attending so he could "focus on his health".
Meghan's mother Doria Ragland was the only member of her family to attend the royal wedding at Windsor Castle last month.
Now Thomas, 73, is filled with regrets that he has been relegated to a "footnote in history".
He said: "I absolutely wanted to walk my daughter down the aisle.
"She was beautiful, it was incredible watching her.
"I was very proud. I was very upset that it wasn't me [walking her down the aisle] but the whole world was watching my daughter. I was very happy about that.
"The unfortunate thing for me now is I'm a footnote in one of the greatest moments in history rather than the dad walking her down the aisle.
"That upsets me somewhat."
Asked about the controversy which made the headlines in the run up to the big day, Mr Markle replied: "I spoke to them both and I apologised.
"I realised it was a serious mistake. It's hard to take it back."
Prince Charles was forced to step in and do the honour of accompanying Meghan down the aisle after she walked part of the way on her own.
Speaking of the moment, Thomas said: "I was honoured, I can't think of a better replacement than someone like Prince Charles."
Thomas expects he will have grandchildren very soon as he revealed his daughter will most likely start a family soon.
"She's wanted children for a long time and when she met Harry and she spoke how much she loves him, there's got to be a child in the making, somewhere soon," he said.
Following on from the wedding controversy, Mr Markle said he hoped he had not offended his daughter and son-in-law by giving the interview and said he just wanted people to know he is a "normal guy".
"Over the last few weeks, everybody has had different opinions, some people said I was faking my heart attack, some people said I was skipping out, all kinds of stories were coming out about me, negative ones.
"But I just want people to know I'm a normal guy, I'm a retired man and I was living a quiet little life and this happened, and lots of things happened around it, and I've tried to survive through that, but more than anything I don't want my daughter or new son-in-law to be hurt by any of this.
"I want to have a nice, normal relationship with my royal family as well now."