WATCH! Prince William Gets Caught DAD DANCING In A Verbier Nightclub and It's Hilarious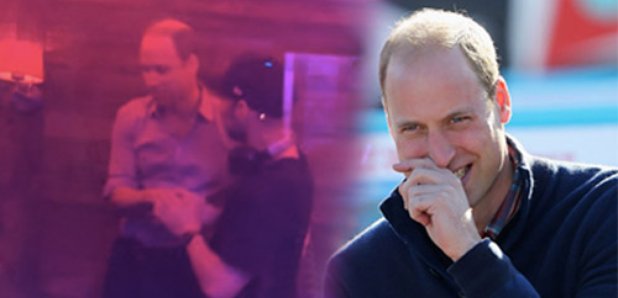 The Queen probably won't be amused by the future king's latest antics after he missed Common Wealth Day celebrations to party abroad.
He may be the second in line to the throne, but Prince William obviously needed to let his hair down this week.
The Duke of Cambridge was an absent face at the Commonwealth Day celebrations at Westminster Abbey on Monday, leaving his brother Prince Harry to attend the ceremony with his grandparents The Queen and Prince Philip.
Now his whereabouts has finally been revealed, and it turns out he's jetted off on a cheeky lads holiday to Verbier.
The father-of-two was pictured enjoying rounds of drinks in the company of friends and a few female companions while hitting the slopes at the exclusive ski resort in Switzerland.
Videos of the Wills hitting the dance floor and busting a move on the dancefloor have spread like wildfire online, and after watching it we can see why!
Raising the roof with his hands and swaying from side to side, the royal can be seen dancing to R&B classic 'I Got Five On It' by The Luniz, in the background of a grainy video taken inside popular apre-ski hotspot Fairnet Nightcllub.
An onlooker at posh club told The Sun: "William was having a great time but, unfortunately, it was quite cringeworthy. I'm afraid to say it was real dad-dancing.
"William was on a lads' night out just enjoying being one of the boys.
"He and his mates spent the first few hours sitting, drinking and chatting then, in the early hours, got on the dance floor. It was very funny."
Cardboard Foxes in the club with #princewilliam - #royalty #verbier pic.twitter.com/9m5nWFN4hK

— Cardboard Foxes (@cardfoxmusic) 14 March 2017
It's thought he also busted a move to some electronic dance music too, before heading to the DJ booth to give the selector a big hug.
The next day, the DJ took to Facebook to share a video of the moment he met the royal after his band Cardboard Foxes proved a hit with William.
Turn out that Will is also a budding DJ too, as he onlookers claim he even took to the decks to spin a few tracks.
Partygoer Deborah Karlse shared a video on Instagram, commenting: "So we are sitting in the Farinet and Prince William is our DJ. He was so very good musically."
Even royals need to let their hair down too!