What Kate Wore: Here's How You Can Get The Duchess Of Cambridge's Canadian Wardrobe
If you're looking for inspiration for your Autumn wardrobe, then look no further than the Duchess of Cambridge on her Canada tour.
When Kate Middleton married in to the royal family, she shot into poll position for being one of the biggest fashion icons for us Brits. The Duchess of Cambridge did not disappoint on her tour of Canada.
It was the first royal tour the Cambridge's have undergone as a family, resulting in the public seeing all sides of the 34-year-old Duchess: a wife, a mother and campaigner, and all the time looking fantastic.
There's an outfit for every occasion and here's where you can go to get your hands on them - but they come at a price.
The 'Just Got Off The Plane' Look: £13,845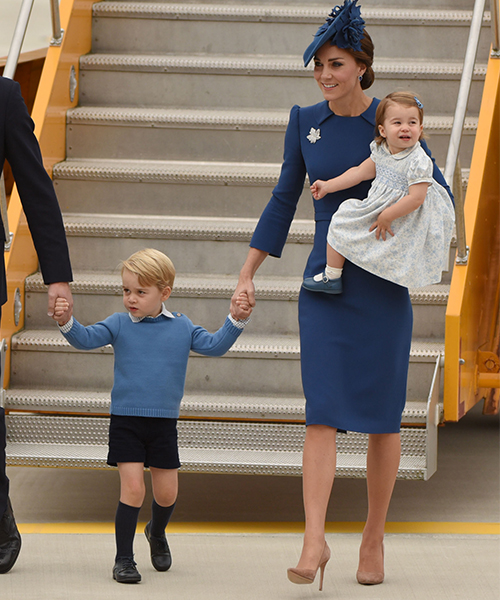 Picture | PA
We don't know about you but when we know we're heading off on a long-haul flight, all we can think of is: comfort. We're talking leggings, Converse and a hoodie.
A far cry from the rest of us, the Duchess of Cambridge emerged from the plane after a five hour flight in an immaculate Jenny Packham pencil dress (around £1,500) paired with nude Gianvito Rossi court heels that cost £495. If you're worried about what your hair looks like when your leaving the plane, do as Kate does and wear a hat. The maple-leaf fascinator was designed by Sylvia Fletcher for Lock & Co, but it will set you back around £650. The Duchess completed the look with a pair of G. Collins & Son Earrings that cost around £11,200.
The 'Arrive By Seaplane' Outfit - £4,805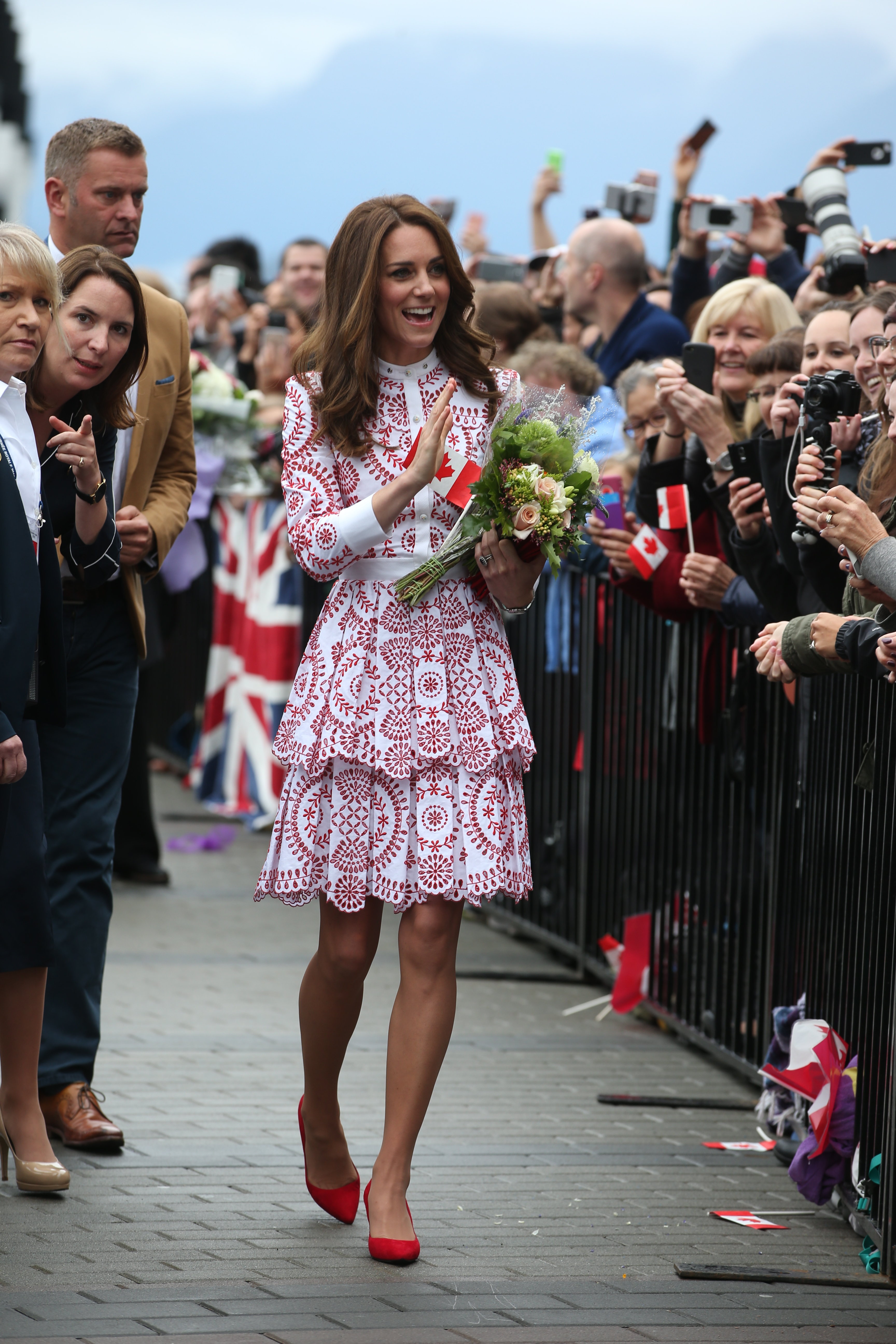 Picture | PA
We all have those days where we're left pondering what exactly does one wear when arriving by seaplane?
The Duchess of Cambridge pulled off a look the rest of us can only dream of by pairing a £4,000 Alexander McQueen dress with a red Miu Miu clutch back (£640) and a pair of matching Russell and Bromley heels, costing £165.
Whilst the rest of us are left wondering what even is a seaplane, Kate middle did it in heels.
The 'Even Chic In The Rain' Get Up - £1,890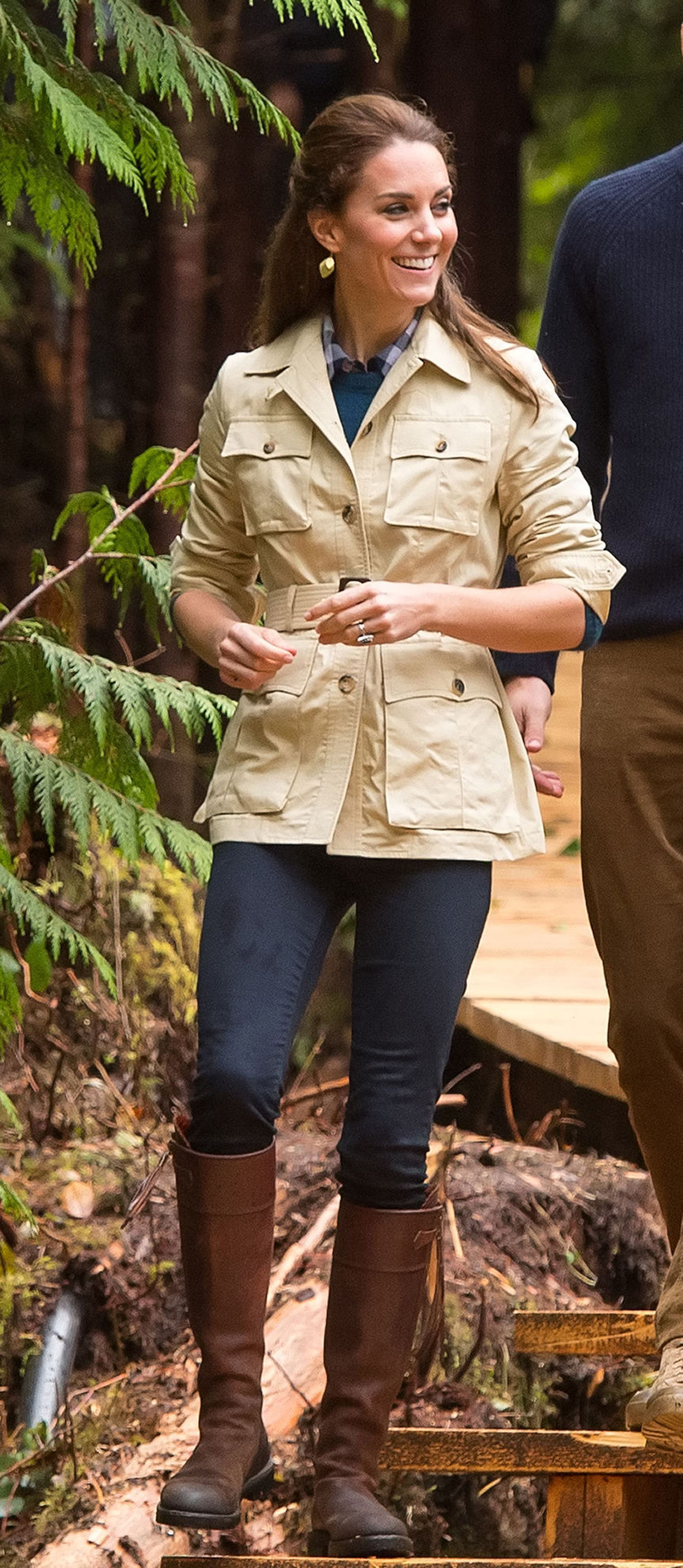 Picture | Getty
Kate kept it simple for day three on her royal tour. It was raining whilst the Duke and Duchess of Cambridge walked through the woodland. She paired a Holland & Holland fitted jacket (£480) with a Topshop checked shirt (£30) and a pair of Zara jeans that cost around £40. In terms of footwear, Kate kept things practical with her trusty pair of Penelope Chivers boots (£450). She completed the look with some everyday Pippa Small earrings costing £850.
The 'Mother By Day, Goddess By Night' Disguise - £1,625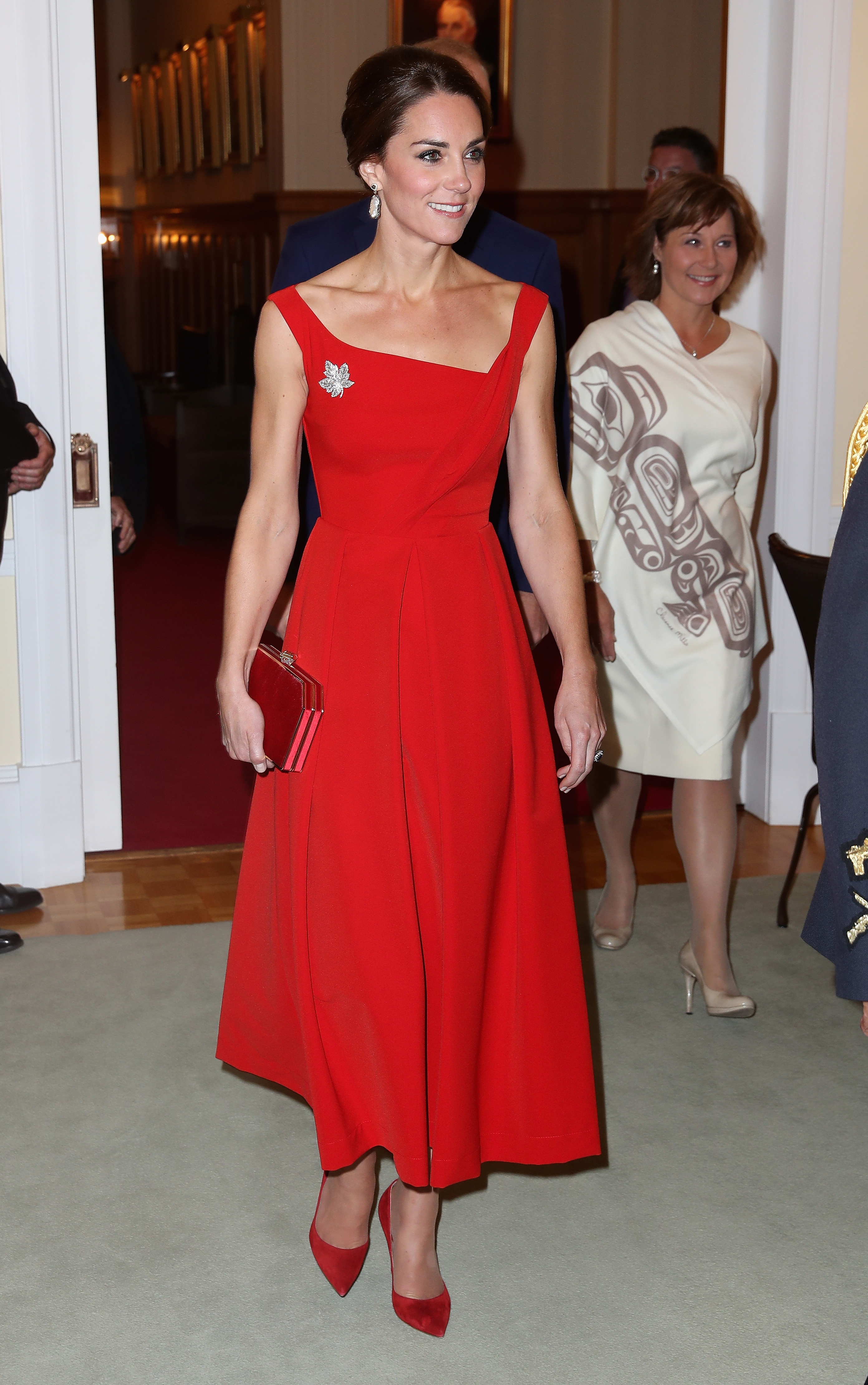 Picture | Getty
There's no denying that Kate looked every inch a Duchess in a red Preen dress that featured an asymmetric neckline (£1,000). She kept it simple with another pair of trusty Gianvito Rossi heels (£495) and accessorised with a set of Soru Baroque Double-Sided Pearl Earrings (£130).
The 'Coat Or Dress' Number - £2,805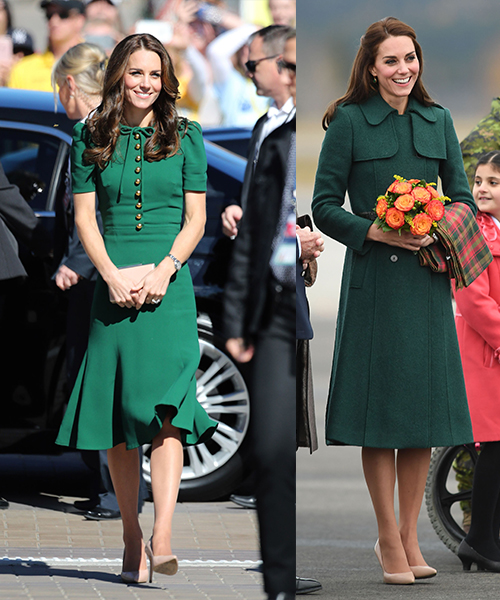 Picture | Getty/PA
It's so annoying when you spend ages looking for the perfect dress and then when you finally get to wear it, the weather is cold and it spends the whole time hidden under your coat. The Duchess of Cambridge has come up with a solution to this: get a coat that looks EXACTLY like your dress. The Duchess' dark green, button up Dolce & Gabbana dress (£2,000) was mirrored in her dark green, button up Hobbs coat (£300). She completed the outfit with a Nina Trench clutch bag (£185) and a pair of comfy LK Bennett Ferm pumps (£195).
The 'British Monarchy' Outfit - £1,543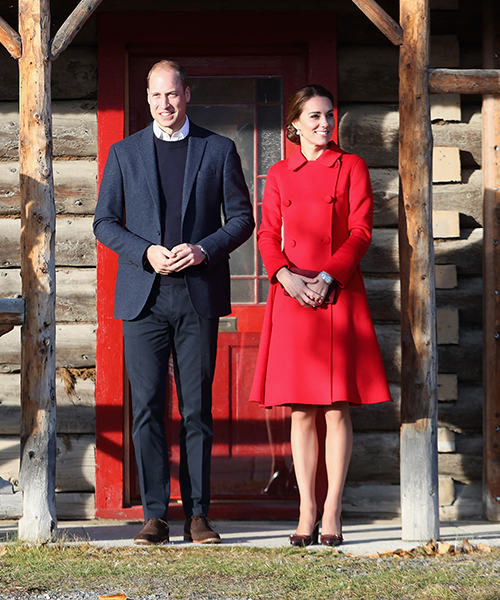 Picture | Getty
The Duchess of Cambridge looked like royalty when she visited the MacBride Museum in a striking, red CH Carolina coat, estimated to cost around £1,190. She completed the look with a pair of burgundy Todd heels (£353).
The 'Picnic With The Kids' Dress - £2,672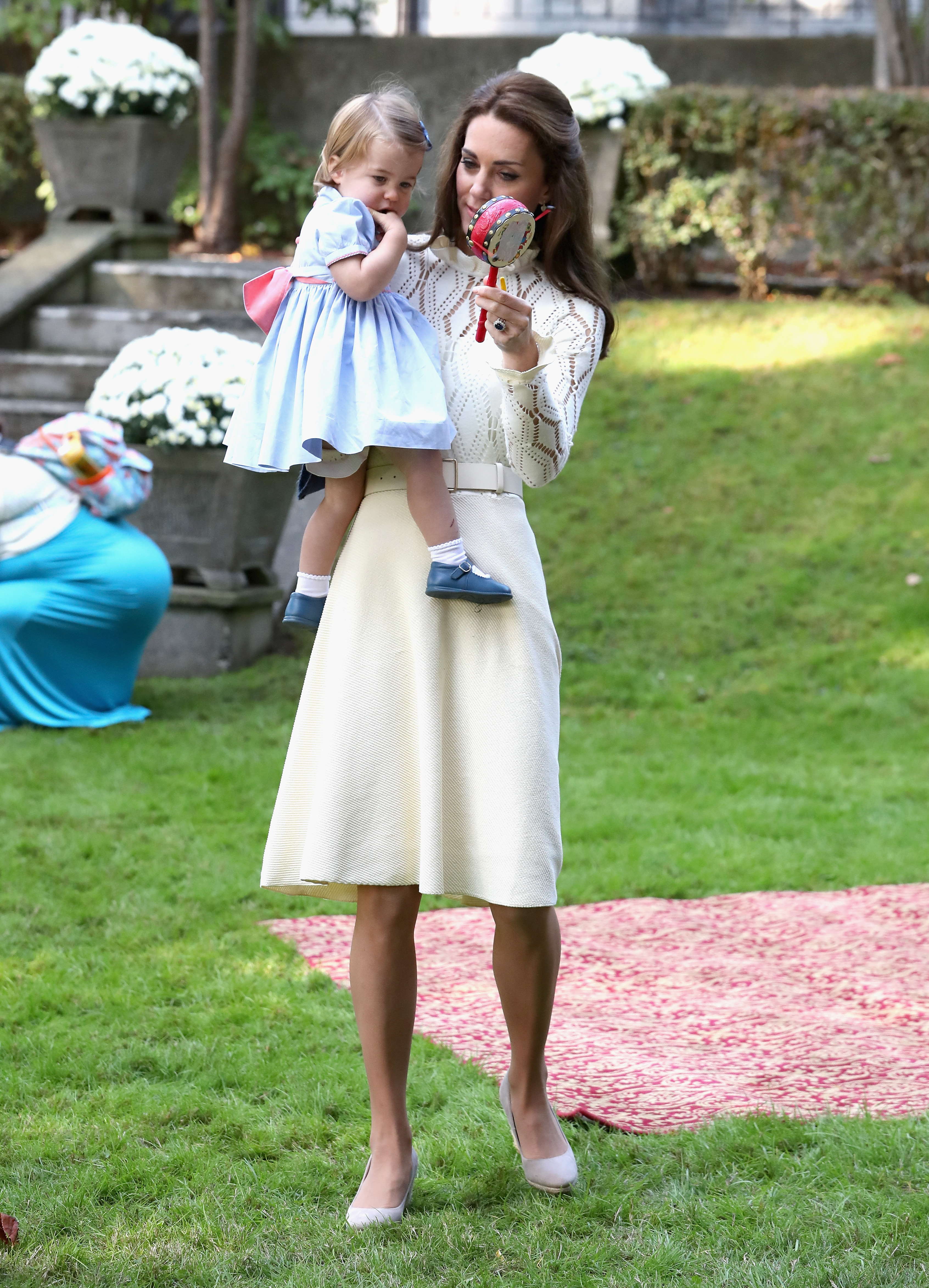 Picture | Getty
When the rest of us became parents, we gave up on the idea of ever wearing white again. However, when you're royalty you can wear white to a children's picnic and still avoid jam sandwich fingerprints and scotch egg crumbs. Kate wore a See by Chloé dress (£320), Acne belt (£139), Monsoon shoes (£13.50) and a rather expensive pair of Kiki McDonough earrings that would set you back £2,200.
Dress Down Fridays - £400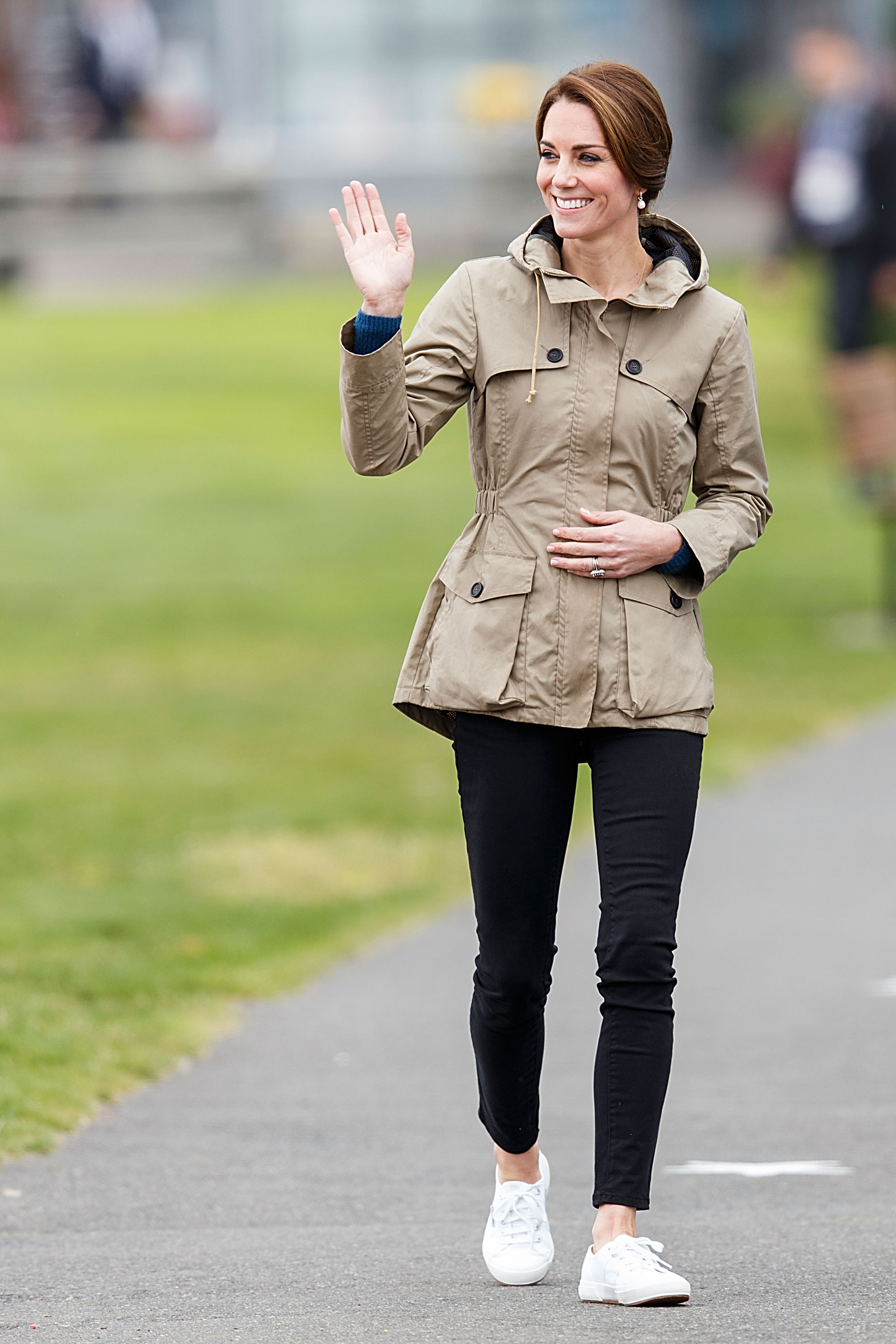 Picture | Getty
Here, the Duchess of Cambridge proved that you can't go wrong with a parka (Troy London, £350) and a pair of Superga trainers, £50. Stylish AND practical for a trip on a fishing boat.
If only we could look this good ALL of the time...