Have YOU Seen Sam? Toy Dog Launched Into Space Goes Missing In Action.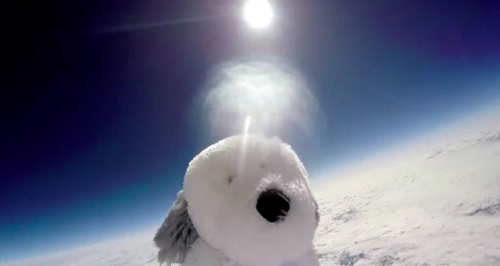 If you've seen the #FindSam hashtag floating about, and thought it was a missing person's ad...think again. The world is actually on the hunt for an adorable cuddly toy whose gone AWOL after a mission in space.
An adorable toy dog has gone missing in action after being launched into space. (We never thought we would say those words either!)
The Midland hotel in Morecambe and SentIntoSpace.com partnered with a local school to see if they could launch the mascot into space using just a giant helium balloon, a GPS tracing device and a GoPro camera to document his journey.
Boy did they get more than they bargained for!
Not only did the hotel mascot fly above the clouds and into space... he never returned!
Sam the dog: From The Midland to Space!

Our cuddly toy dog and English Lakes Hotels Resorts & Venues mascot was sent on a space mission by school children for their science project. He launched from the roof of The Midland and was filmed by a camera in his helium balloon. UPTDATE 16:00 07/04/16: Have you seen Sam the Dog? Sam the Dog went missing in action. The equipment landed in a field near Burnley, but Sam had become detached during re-entry and was nowhere to be seen when his tracking equipment and live telemetry systems were recovered.According to the flight data, it is thought that he returned to earth within a 40-50 mile radius of the landing site. We are offering a reward if found.Find out more about Sam in Space on our blog:http://elh.uk/SamInSpace#FindSam

Posted by The Midland on Wednesday, 6 April 2016
It's claimed Sam's GoPro and tracking device was found in a field near Burnley but he'd become detached upon his return to Earth, and was nowhere to be seen when the equipment was recovered.
According to his flight data, Sam is thought to have landed on Earth within a 40-50 mile radius of the site where he was supposed to land safely.
The kids at Morecombe Bay Primary School are hoping that locals might be able to find and return him for a special reward!
They'll be treated to a complimentary stay at the iconic Art-Deco 4 star The Midland hotel in Morecambe!
We better get searching!