Olympic Swimmer Michael Phelps Raced A Great White Shark But Who Won?
24 July 2017, 11:22 | Updated: 24 July 2017, 11:30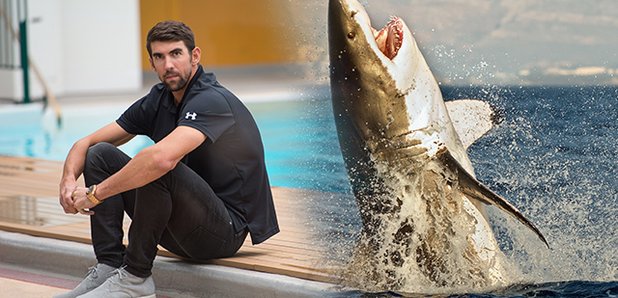 The most decorated Olympian of all time took on the oceans most notorious predator, the Great White Shark.
It's that time of year again over on the Discovery Channel.
Each year, for one week only the nature documentary channel is taken over by shows about the ocean's most notorious baddie...sharks. Yep, it's Shark Week!
And to kick of the week Discovery pulled all the stops out in a special programme called Phelps vs Shark: Gold vs Great White.
And you guessed it, the greatest Olympian the world has ever seen took on one of the planets most fearsome predators in a race to see who is the fastest.
We hope he didn't watch Jaws before taking on this challenge!
To give him a fair whack at the challenge, the Olympic swimmer was provided with a special wetsuit to emulate a sharks streamlined skin and was also provided with an adapted 'monofin' called a Lunocet.
In order for @MichaelPhelps to beat a shark, he must become a shark. #PhelpsVsShark is TONIGHT at 8p on @Discovery #SharkWeek pic.twitter.com/1YjtRoEvGz

— Shark Week (@SharkWeek) 23 July 2017
Although of course Michael didn't jump in the sea with a real shark - that might be just a tad too risky! But thanks to the magic of TV the wizards at Discovery filmed a Great White swimming a specific 100m stretch of the ocean then filmed Michael doing the same at a safe distance from any predators!
They then put the two together in what made for quite a nail biting race, although as predicted, he didn't manage to out swim a Great White despite having 28 Olympic medals.
Phelps managed the 100m course in 38.1 seconds and the shark in 36.1 seconds - so quite an impressive time in comparison!
In the lead up to the big race, Michael also pitted himself against some other varieties of sharks over a 50m stretch including a Hammerhead Shark and a Reef Shark.
And he actually beat the latter! Imagine being faster than a shark, it's safe to say he certainly deserves all those Olympic golds.