There Was A Mysterious Red Sun Yesterday And Here Is Why!
16 October 2017, 17:48 | Updated: 17 October 2017, 09:15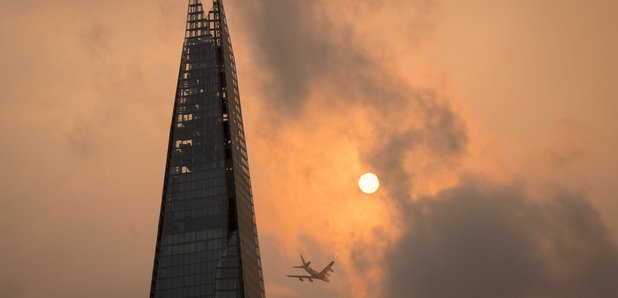 The skies went red and everyone thinks the world is coming to an end...but there's a scientific reason.
If you looked out of the window today and thought that you were the star of an apocalypse movie, then you weren't the only one.
The large red sun that took of the UK skies was nothing short of eerie, but it turns out that there is actually a scientific reason behind the natural phenomenon and it doesn't actually signal the end of the world.
WATCH: The Simple Reason Why The Sun Has Turned Red
Dubbed as the 'hurricane sun' experts claim the change in colour has been caused by the tail end of Hurricane Ophelia which has been battering the UK & Ireland with gusts of wind expected to hit 80mph.
The strange occurrence has take weather experts by surprise and the Met Office are investigating as to whether it could have been caused by a large amount of dust from the Sahara and debris from the Portugal and Spain as the hurricane travelled towards the UK.
It seems as thought people all across the country were able to witness the red sun, with Met Office claiming they've had reports from across the country.
#yellowsky over Portsmouth, it's so dark for mid afternoon. pic.twitter.com/VlbsDZoThr

— Samantha J. Penny (@astro_hedgehog) October 16, 2017
Turn off the auto white balance on your phone to capture today's #yellowsky This is in #windsor Weird light... pic.twitter.com/18S7H6YY6s

— Jane Deane (@JaneDeane) October 16, 2017
Surreal skies over #London due to #Ophelia #REDSUN #StormOphelia #Sepia #sahara pic.twitter.com/ufSaOVmVpP

— Timothy Powell (@TCP1980) October 16, 2017
It's thought that the unusually strong winds from the hurricane are pulling warm air from Spain and North Africa and also some tiny particles of dust from the Sahara, giving the skies it's dusky red glow.
The Met Office has issued a yellow weather warning for the region has warned road, rail, air and ferry services could be affected.