Coldplay Smashed Glastonbury Performance With Extra Special Guest Singer!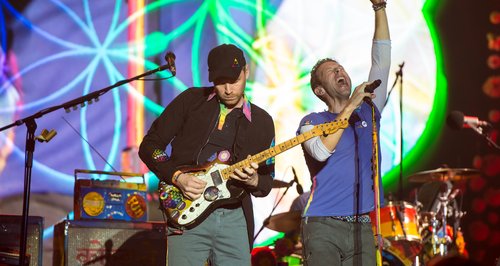 Coldplay were joined by a legendary 70s disco frontman on the Pyramid Stage...and the crowd went wild!
Now that's how you do a Glastonbury headline performance!
Coldplay wowed the crowd with their biggest hits, a fantastic light show and enough fireworks to rival New Year's Eve...and then they brought out LEGENDARY Bee Gees frontman Barry Gibb.
Minds blown.
Well this was a bit ace wasn't it? @coldplay with the legend that is Barry Gibb. pic.twitter.com/vzHvSGfWiT

— Paddy Considine (@PaddyConsidine) June 27, 2016
After a special video message from Glasto organiser Michael Eavis, Barry walked onto stage and it's safe to say the crowd was excited to hear what classic track he'd sing.
It was only bloomin' 'Stayin Alive'!
Coldplay frontman Chris Martin and Barry also belted out a rendition of 'Somebody to Love' by another brilliant British band, Queen.
People watching at home also loved the set. Here's what they had to say on Twitter...
Never in my life time did I think Coldplay & Bee Gees would be a thing https://t.co/frPkfkAKbE

— Tahra (@tjf_1997) June 26, 2016
Coldplay and Bee Gees, legendary

— soph (@SophieMarieMurs) June 26, 2016
Staying Alive. Bee Gees. #Coldplay. Seriously what is not to like? #Glastonbury

— Jordan Dias (@jordandias) June 26, 2016
Admit it, this is one of the best things you've ever seen, right? #Powertodisco