Cast Your Vote! Game Of Thrones Stars Weigh In On Who Will Die In Season Seven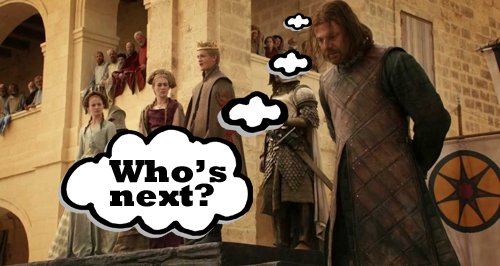 The cast of 'Game of Thrones' think we could see some MASSIVE deaths in season seven, but who do you think is up for the chop? VOTE NOW!
If you've only just recovered from the news that 'Game of Thrones' season seven will be aired later and will be shorter than previous season (Haven't heard this yet? Catch up here!), then you might want to back away now...
Sophie Turner, aka Sansa Stark, reckons her character could be next on the long list of 'Game of Thrones' deaths.
Errrr, what now?
Yep, the cast of 'Game of Thrones' were asked who they think will die in season seven, and their answers were interesting to say the least.
She said: "Cersei should die, but probably won't die. I don't think she'll die. We need a bad guy on Game of Thrones. Maybe Sansa, maybe Sansa will die!"
If that does happen, the Stark family will officially be the unluckiest brood on TV!
See what the rest of the cast, including the now deceased Ramsay Bolton, have to say here...
We REALLY hope that Sansa and Cersei don't die, but we certainly don't fancy the chances of Theon Greyjoy and maybe *whisper it* Brienne of Tarth!
Give us your honest opinions about who will make it and who will pop their clogs in the poll below. Let's see if we're all in agreement...
Got a 'Game of Thrones' theory? Share it with us below, we're obsessed!