"Today I Don't Feel I Got This'" Giovanna Fletcher Shares Searingly Honest Truths About Life As A Mother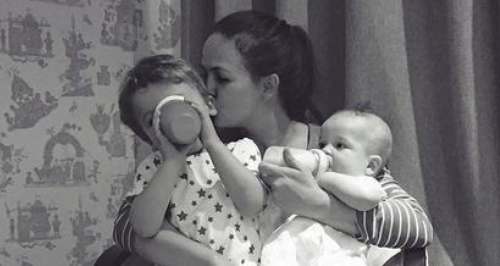 She's a blogger, presenter, author, actress and self-confessed multi-tasker. But Giovanna Fletcher confesses that even celebrity mum's get overwhelmed sometimes!
Giovanna is proud wife to McBusted's Tom Fletcher and devoted mother of her two adorable young sons Buzz and Buddy.
The pair appear to the world to be the parenting DREAM TEAM.
They make hilarious Youtube videos of their lives with their little ones in tow and have even written joint books about their sons mini-adventures.
The 31-year-old mum comes across as warm and funny and you'd be forgiven for thinking that her life is a charmed one.
However, the down-to-earth mother has recently opened up about the (very real) struggles of motherhood to her many fans in a deeply moving Instagram post.
The post documents the brunette's day out with her two boys and the mayhem that ensued:
"Buddy continuously moaned and then had a full blown meltdown", whilst Buzz "wouldn't listen" to her.
The faces say it all really!
Meanwhile the couple have talked honestly about an issue that is close to most parents hearts: the underestimated value of sleep!
"Close to midnight and I'm still awake as both boys have been up and needed cuddles...
This is not a good start to the night. Well, the cuddles were lovely, but the hope of getting a solid bit of sleep in is fading fast... I hear one of them stirring again. Oh gosh... Bye sleep! Waaaah!! Xx #robbedofsleep #mumlife"
She beat off stiff competition from the likes of WAG Coleen Rooney, former 'TOWIE' star Sam Faiers and Peter Andre's wife Emily MacDonaugh to be crowned 'Icelolly.com Celebrity Mum of the Year' this year and boy do with think she deserves it!
Perhaps tellingly Gio dedicated to her award to all "the mums and dads who are simply doing their best".
The truth about the struggles of being a parent are what makes Gio and Tom such loveable figures:
"Now we're home they're laughing and playing again but I'm a beaten woman. Read someone's Instagram post that read 'You got this Mama'... Today I don't feel 'I got this'.
Although, if you think about it, only the last hour was a disaster and the rest was fab. So it was actually a 75% successful trip. Now time for dinner, bath and bed... The fun never ends! #mumlife #wouldntchangeit #ineedaliedown"
Hats off to these two!