James Blunt Has A BIG Warning For 2017!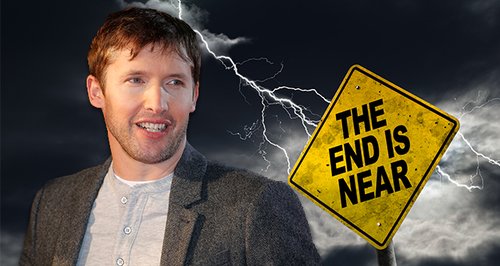 The 'You're Beautiful' singer sent a word of warning out to Twitter fans about next year after what has been a dreadful 2016!
James Blunt has had some stick recently over rumours that he's making new music, but you can't deny that his sense of humour is on top form after he posted this hilarious 'warning' for 2017...
If you thought 2016 was bad - I'm releasing an album in 2017.

— James Blunt (@JamesBlunt) December 13, 2016
Oh James! You're such a good sport.
And many of his fans (and some non fans!) agreed, giving him praise for his tongue in cheek approach to a new year and a new album!
@JamesBlunt in the game of Twitter, you win.

— Ryan Keen (@RyanKeen) December 13, 2016
@JamesBlunt you are the unexpectedly funniest man on Twitter

— James Brown (@jamesjamesbrown) December 13, 2016
.@JamesBlunt Not a fan of your music, but you are so funny! I wish you the best for your new album in 2017. Are you covering East17 Stay?

— Dave Loughran (@DaveLoughran) December 14, 2016
But this is by no means the first legendary Tweet the singer has posted, just check out some of these gems and you might fall in love with him enough that you head out and buy his album next year.
I never liked the sound of my own voice. Till it made me rich. @SamanthaMika: Does anyone else HATE james blunt's voice? I can't stand it.

— James Blunt (@JamesBlunt) November 1, 2013
Coming upstairs now. RT @sassyfalahee: omfg james blunt is on the tv downstairs can this day get any worse!

— James Blunt (@JamesBlunt) December 8, 2014
RT @JordanSHill: What ever happened to James Blunt? pic.twitter.com/ahCI6N9ZRn

— James Blunt (@JamesBlunt) January 16, 2014
Now lets all immediately go and follow James Blunt on Twitter and see what magical moments he'll bring to our feeds in 2017!