Is THIS The Real Reason Why Jennifer Saunders Has Called Time On Ab Fab?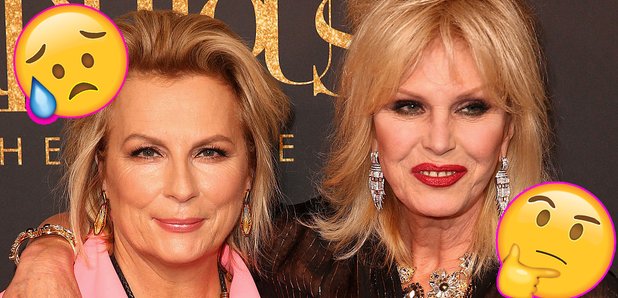 Edina and Patsy WON'T be coming back for more fashionable antics, but for Jennifer Saunders it's because of one particular reason...
If you were hoping for a few more Boli-fuelled adventures for Edina and Patsy, think again!
Jennifer Saunders has officially thrown in the towel and, although she's looking forward to some well-deserved grandparenting time, there's another reason why she's hanging up Eddy's stilettos...
Political correctness.
Yes, you heard us right. Jennifer Saunders thinks that 2017 is just too sensitive for another round of everyone's favourite booze-fuelled duo.
The comedian has said that resurrecting her famous characters would be useless because people are too easily offended.
Speaking to the Press Association (as reported in The Mirror), she said: "People are so politically correct now; we couldn't get away with anything. You can't even get away to be a politically incorrect character, because that is seen as being politically incorrect [sic].
"Everyone's down on everyone for everything."
Surely the point is that we're laughing AT Eddy and Patsy because they're so dire, not WITH them?!
Jennifer's co-star Joanna Lumley, is also in agreement that Ab Fab should be left as a comedy relic of the 1990s.
She added it is best to "leave it where it is".
Jennifer even went on to say: "The world's a bit funny now, it's gone a bit strange, it's a bit harder to parody. Because so much of the world right now is so grim, and hard and fearful, and people so take affront at everything."
The 'Absolutely Fabulous' movie hit cinemas last year and it proved to be a big box office success.
However, it had its fair share of controversy, with many accusing it of portraying "yellowface" by having a white actor playing an Asian character.
What do you think? Has political correctness gone mad or did Ab Fab go too far?
Let us know below...