Lionel Richie Admits Marriage And Kids Freak Him Out!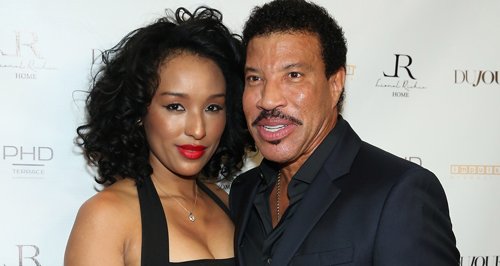 Singing superstar and all-round legend Lionel Richie has revealed he's well past his prime when it comes to marriage and babies…but nothing will stop him dancing on the ceiling.
Lionel Richie has given us some tantalising hints about his private life and the size of his entourage (and no that's not a euphemism) in a revealing new interview.
Talking to The Mirror, Lionel said he will leave the baby making to 68-year-old Rolling Stone star Ronnie Wood, who's having twins with his new wife later this year. Crikey!
He said: "Of course, Ronnie Wood can have children he's a Rolling Stone, he can defy the laws of gravity. It would probably kill me. But I really can't see myself having any more children. I have enough. I've turned a corner."
He's all loved up!
But 66-year-old Lionel hasn't given up on love – he's been dating his 30-something Swiss-Chinese girlfriend, Lisa Parigi, for four years (check her out in the picture above). Before this he was married twice and has three grown-up children, including Nicole Richie, and grandchildren.
"I don't think I'll get married again," Lionel said. "I'm a little spooked on that. You try marriage once and you try it twice and think, 'do I want to roll the dice again?' I'm not convinced."
Best not to gamble on happiness, Lionel!
Although this is pretty juicy stuff in itself, Lionel continued to chatter with the newspaper revealing loads more titbits about his life, including why he thinks his high-profile marriages failed.
Why his marriages failed
He admits: "It's hard enough when you're home every night, so it just makes it really difficult when you're performing in Istanbul, then the next night in Miami and then Singapore. The music business is a tough business to have a relationship in."
He also admits to having a tough relationship with his daughter Nicole, who was imprisoned for drug offenses and sent to rehab in her younger years. Now though she's happy, healthy and has a strict approach to bad language in front of her two small children.
Lionel says: "Of course, guess who has now become the disciplinarian? Nicole Richie. Isn't that incredible? The lady who used to make my hair fall out. She tells me off and says, 'Dad, we don't speak like that around the kids. Not in this house.'"
He even said: "I'm pounding-on-my-chest proud." Awwwwww.
His entourage is shrinking
With a new UK tour on the horizon, Lionel explains he's taken a more zen approach to life, including chopping down the size of his entourage, eating healthy and exercising.
"At home in LA I have a personal chef but not on tour – it becomes a hassle. I'm pretty old school, but I'll have a masseuse this time round, as I've discovered you can release tension by relaxing," he says.
"I just don't need an entourage now. You go through the first half of your life going 'I need an entourage and people around me who make me feel good', and then you spend the second half of your life cutting it back."
We'd love to live half of our lives with an entourage – or just someone to take the bins out and cook us food when we come home from work.
Don't you just love him!