The Nation's Late Grandmother, Nanny Pat's Funniest Lines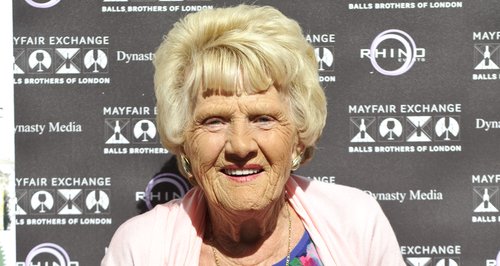 The beloved 'TOWIE' star Pat Brooker has sadly passed aged 80. As the country mourns her loss, we celebrate her loveliest moments, most inspiring advice and most hilarious one liners...
She's the TV show's heart and soul and will be sorely missed by 'TOWIE's' legions of fans as well has her adoring family.
Jess Wright broke the news in a statement to 'MailOnline': "Sadly our amazing, courageous and beautiful Nanny Pat passed away this morning after a short illness."
Meanwhile Mark Wright has tweeted "My heart is broken but so overwhelmed by your support. To know good ole Nanny was loved by so many is the best feeling in the world Thankyou".
Our thoughts and wishes are with all the family at this most difficult time.
In honour of the great lady, we look back at some of her best moments...
The time Mark Wright teaches Nanny Pat how to swim… and she called him a "saucy git":
The time Mark Wright's mum and sister discussed knickers with Nanny Pat… and she says she's gonna model some sexy pink draws! OoOoh err...
The time Sam Fairs and Amy gave her a sexy makeover… we LOVE the pink lippy Pat!
The time she surprised everyone by showing up on an episode of 'Celebrity Juice' and then TOTALLY dissed Holly Willoughby…
The time cheeky Mark got his dear old Nan to do his ironing for him!
The time someone put a soundtrack of pounding club classics to Nanny Pat doing The Essex Shake… we were literally crying with laughter!
Nanny Pat gets us feeling all festive by teaching us how to make the perfect mince pie plait...
The time she absolutely ROCKED a hard hat… it's a great look Nanny Pat!
Nanny Pat, you will be missed by all of us, you brought a dose of sunshine and laughter to our lives.