Poor Michelle Keegan! Star Gets Roasted For Innocent 'Tina And Bobby' Gaffe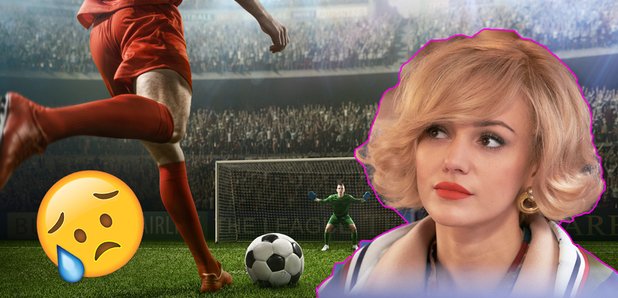 Internet trolls pounced on Michelle Keegan after she stumbled over her words on breakfast TV! Don't worry Michelle, we're with you...
Heaven forbid you say the wrong thing and the Twitter trolls pounce!
That's exactly the situation Michelle Keegan found herself in when she made an innocent slip on breakfast TV.
Michelle was promoting her new TV show, Tina & Bobby, which charts the life of iconic sportsman Bobby Moore and his wife Tina, when she accidentally said the wrong thing.
When asked about the impact that Tina and Bobby had on the football scene, Michelle commented that football wasn't a "major sport" in the 1960s. Of course, we all know that England won the World Cup victory in 1966!
An early morning slot and a jolt of TV nerves made Michelle stumble over her words, which she later explained to Metro. She said: "It was early in the morning and the words just didn't come out the way I wanted. Of course I know football was a big deal in the 1960s - England won the World Cup. What I meant was back then, footballers didn't have the celebrity status they have now.
"It was a different world for Tina and Bobby - they were football's first golden couple."
Amazingly, Tina made this slip up LAST YEAR and it's still being talked about now! Come on Twitter trolls... get over it!
Watch a trailer for Tina & Bobby here...
What do you think? Should everyone just back off and leave Michelle be?