EVERYONE'S A WINNER! $200K Oscar Nominee Goody Bags REVEALED!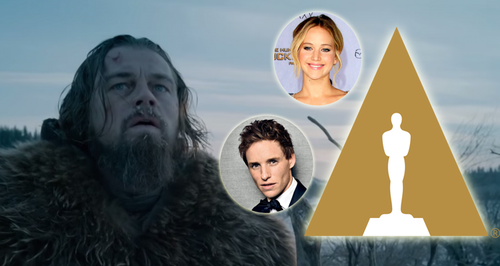 This year's Academy Award nominees will reportedly receive goody bags worth a whopping $200,000! You won't believe some of the gifts that are inside them!
As the Academy Award nominees wait with baited breath to find out who will be picking up a gong next month, it looks as thought everybody will be a winner on the night as the goody bags are UNREAL!
What better way to celebrate your success or drown your sorrows than by being treated a whopping bag of goodies?
If reports are anything to go by, then this year's nominees will be given freebies worth over $200K!!
The gift bag range from luxury holidays such as a 15 day walking tour of Japan to more bizarre gifts such as a "vampire breast lift" and naughty bedroom toys!
The most expensive inclusion for 2016 is a 10-day first class trip to Israel ($55,000), with that Japanese walking tour coming in at $45,000. The package also features a year's worth of unlimited Audi car rentals, worth $45,000, and a lifetime supply of Lizora skin creams, worth $31,200.
RIDICULOUS!!
Oscar Nominations 2016 - Who Got Snubbed?
It's that time of year again! Awards season is here and brings with it a host of phrases from "the winner is..." to "who are you wearing?"!
And as much as we'd really, really love a hot British man to win the best actor award (oh hi Eddie Redmayne), isn't it about time that Leonardo DiCaprio got an Oscar?!
What's more we've seen some notable absentees from this year's list of contenders, who we feel deserved a little credit.
1. Best Picture, Carol
Despite it's starring lady Cate Blanchett receiving a nod for Best Actress, it's seems a bit odd that the critically acclaimed film was overlooked for Best Picture.
2. Best Director, Ridley Scott
'Martian' may have swept up at the awards with nominations in five categories but surely legendary director Ridley Scott deserved a nod for his innovative technical achievements in the film?
3. Best Actor, Johnny Depp
Depp's performance as infamous mobster Whitey Bulger was tipped for Oscar glory from the get go, however he failed to impress the panel despite working with world renown director Martin Scorsese.
4. Best Supporting Actor, Michael Keaton and Idris Elba.
Michael Keaton was overlooked in this category despite his stellar performance in the Roman catholic church drama 'Spotlight'. Meanwhile, Idris Elba has snubbed for his role as a West African war commander, despite being nominated for a BAFTA in the same category.
See the full list of 88th Academy Awards nominees below to find out who's in with a chance of winning this year...
Best actor in a leading role
Best actress in a leading role
Best Picture