Tom Fletcher And Wife Giovanna Announce The Arrival Of Buddy Fletcher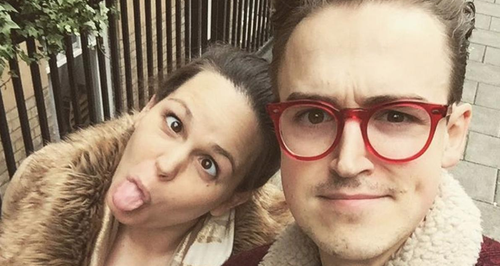 Tom Fletcher and wife Giovanna have become parents for the second time.
Update Tuesday 16 February 2016:
The countdown is officially over!
Proud parents Tom and Giovanna have welcomed their second son Buddy Bob Fletcher to the world.
Player 2 has entered the game.

— Tom Fletcher (@tommcfly) February 16, 2016
What a beautiful day to be born... Welcome to the world Buddy Bob Fletcher. xxx #player2 https://t.co/yjHQEvc5FI

— Giovanna Fletcher (@MrsGiFletcher) February 16, 2016
Completely overwhelmed with love for our second son Buddy, and can't wait for him to meet his big brother. Thanks for the lovely messages. X

— Tom Fletcher (@tommcfly) February 16, 2016
We're over the moon for the growing family! HUGE CONGRATS GUYS! XXX
Update 13 February 2016:
Daddy-to-be Tom has never been one to mind over sharing on Social Media...and we love it!
However, even we sliiiiightly object to a seeing the Tupperware box that is going to keep wife Giovanna Fletcher's placenta nice and safe after the birth so early on a Monday morning... we haven't even had our breakfast yet Tom!
The McFly frontman and his author wife Giovanna are set to become parents once again and her all-important hospital bag is ready!
Given that she's now a pro, following the birth of son Buzz in 2014, it's no surprise Giovanna knows the score when it comes to hospital bags and is well prepared this time around...
And Tom's preparing the family car too...
Even TOWIE's Mario Falcone can't wait to become an uncle again...
This little family are so full of love for each other and we can't wait for the next instalment.
Speaking about their first son Buzz becoming a big brother, Fletcher said: "I don't know if he's aware of quite how much it's going to change his life, a new brother of sister" he told 'OK Magazine' "but he does know there's a baby coming."