Tom Hardy Lost A Bet With Leonardo DiCaprio And Now Has To Get A Tattoo!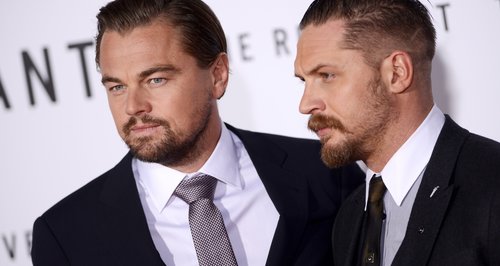 The actors made a bet while working on The Renevant which poor Tom Hardy lost, and now he has to get a ridiculous tattoo!
It seems like even two of the most famous actors in Hollywood aren't immune from a bit of 'lad banter'!
Tom Hardy and Leonardo DiCaprio are two of the most famous names in Hollywood and most recently worked together for box office smashing and award winning film The Revenant.
Famously, Leo's role in the film bagged him his first Academy Award or Oscar, and Tom Hardy was also up for a 'Best Supporting Actor Award'.
He sadly didn't win but apparently didn't even think he'd be nominated in the first place!
Leo was so confident that Tom would be up for the award that if he was he would have to get the words 'Leo knows everything' tattooed onto him!
LOL!
But apparently Leo's handwriting isn't as good as his acting and Tom Hardy told Esquire in an interview that he said to his pal, "OK, i'll get it done but you have to write it properly".
We hope he posts a snap on Instagram of the inking when it's done!