6 Things You Need To Know Today - 28th August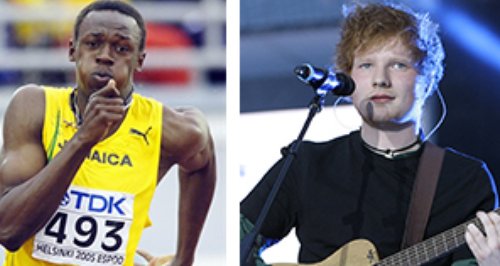 A cameraman stops Usain Bolt in his tracks, Jennifer Lawrence and Amy Schumer join forces and will Adele FINALLY release her new album in November?
All your bitesize news in one handy place!
From a segway-riding cameraman being the only person in the world to slow down Usain Bolt (yes, really) to Courtney Cox finding a famous singer to wow guests at her wedding, you'll want to read this...
Scroll down to read more!
Friday 28th August 2015
Watch Out For That Segway, Bolt!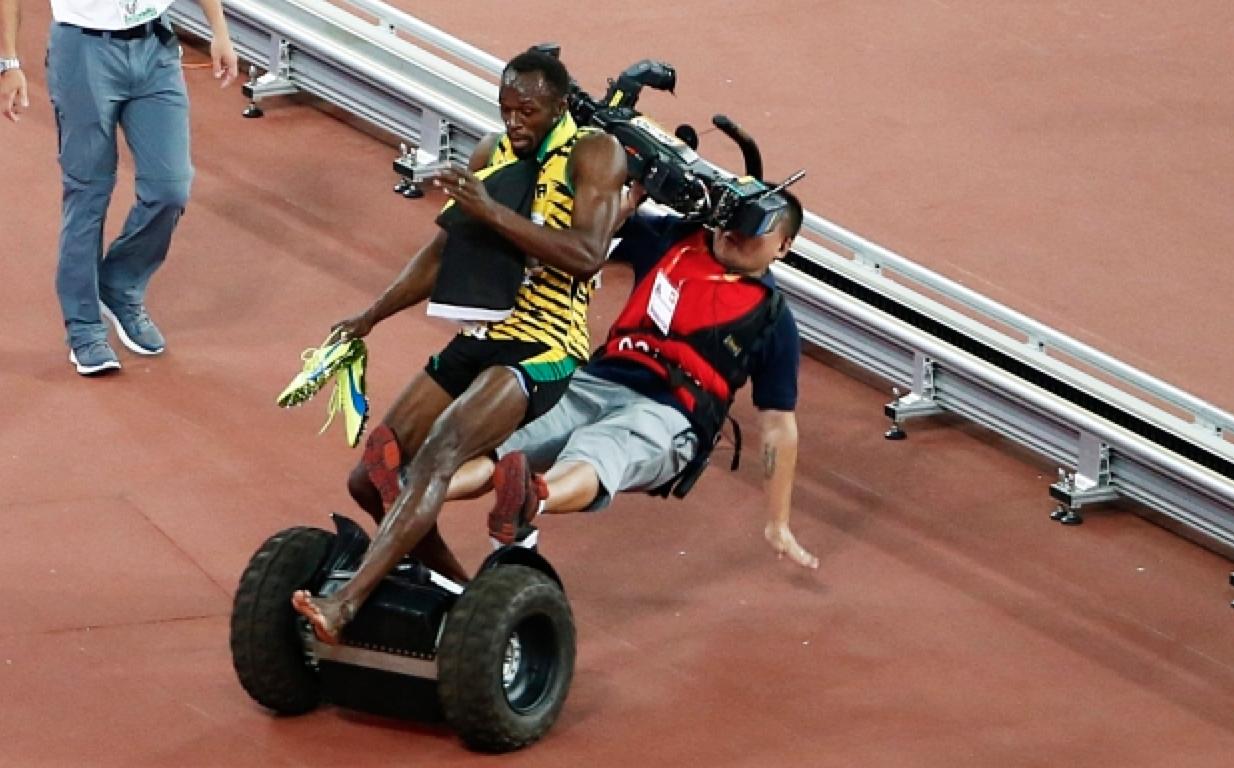 Usain Bolt may have beat Gatlin in the 100m at the World Championships in Beijing, but he was wiped out by a rogue camera man on a segway. You HAVE to see this video!
Adele's New Album To Be Released In November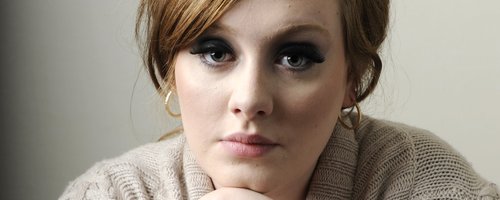 After a four-and-a-half year wait, Adele's third album will apparently be released in November. The 'Skyfall' star was supposed to release her follow-up to the MASSIVE hit album, '21', last year.
But then it got postponed to spring 2015. And then, yep, it got postponed again – but according to Billboard reports, we'll be expecting the long-awaited new music from Adele to be released this November. Eeek!
Ed Sheeran Will Serenade Courtney Cox And Johnny McDaid At Their wedding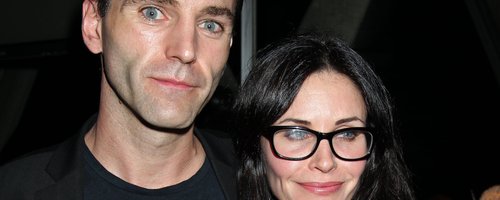 Imagine Ed Sheeran singing at your wedding – it would definitely be a talking point. Well that's exactly what will be happening when 'Friends' star, Courtney Cox and hubby-to-be, Snow Patrol rocker, Johnny McDaid say "I do".
The pair will be graced with the singer's presence at their wedding – as they were actually introduced by him whilst he was staying at Cox's pool house and recording his second album 'X'.
"We are certainly grateful to Ed for introducing us. I can't imagine him not playing something at the wedding" gushed Courtney "It'll be a musical night." Tissues at the ready.
If You Thought Social Media Was Dying Out… Think Again!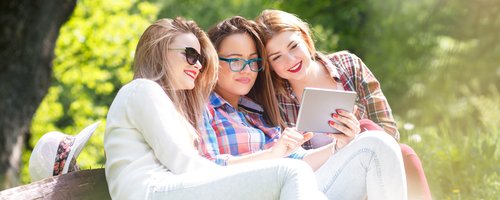 Yesterday was apparently the first time over a BILLION of us used Facebook in one 24 hour period, according to the founder of the social media sit, Mark Zuckerberg. Wow, that's a lot of selfie uploads and moaning about public transport!
These Ladies Join Forces: Amy Schumer And Jennifer Lawrence Are Writing A Film Screenplay Together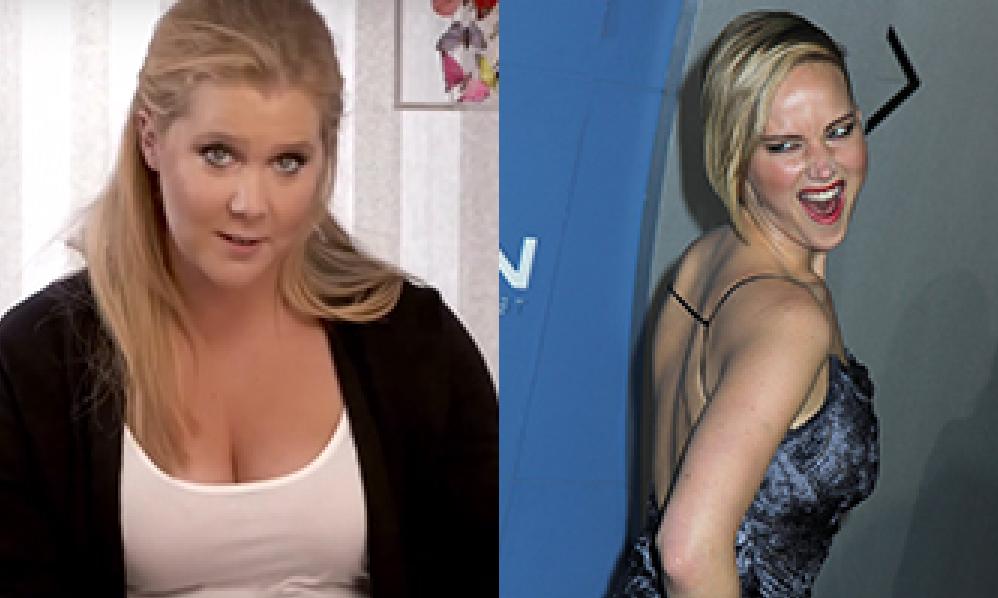 Oscar winning actress? Check. Super funny? Check. Beautiful? Check. Now Jennifer Lawrence can check 'screenplay writer' off of her list. The star has just revealed she's almost finished writing a comedy with US funny-woman Amy Schumer.
They plan to star in the film, a comedy about a pair of sisters. "We're almost done writing. It just flowed out of us. We've got about 100 pages right now," Amy told 'The New York Times'.
"It's been the most fun experience of my life. We start the day off on the phone, laughing" Jen added. "And then we send each other pages. And we crack up." MEGALOLS.
The World's First Unmeltable Ice-Cream Has Arrived!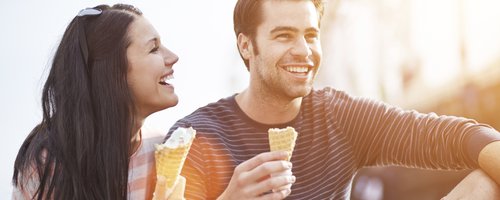 Rain? What rain? Just in time for the remainder of our British summertime, the world's first unmeltable ice-cream has arrived.
The new invention is to launch at Alton Towers and was created by chefs who exposed the product to soaring temps and making sure it still withstood the heat! Many Brits say sticky ice-creamy hands are their biggest bugbear, so this should help!
Thursday 27th August 2015:
'We're Going On A Bear Hunt' Will Be Made Into A Film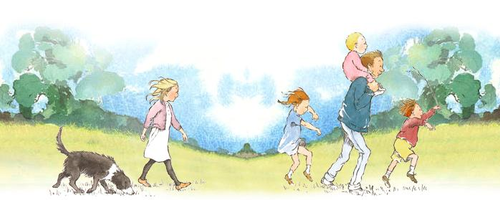 What do you do when you can't go over it? Or when you can't go under it? You've got to go through it, of course!
The makers of 'The Snowman' are taking on the next project which will see the beloved children's book by Michael Rosen and Helen Oxenbury into an animated adaptation. This is one we'll be keeping an eye out for!
The Jolie-Pitts Are Moving To London
Yep, you read that correctly: Brad and Ange are house hunting in London - and are reportedly looking at houses in Westminster!
According to 'US Weekly', the couple have already checked out a £39 million property in the borough. Okay, so their not quite going to be our next door neighbours, but STILL it's something to be excited about right?
Taylor Swift And Phoebe From Friends Sing 'Smelly Cat'
If you've been to a Taylor Swift concert on her 'Red' tour then you'll know that the 25-year-old singer has a habit of bringing some of her famous faces on stage with her. And now she's bringing her 'Friends' out with her too.
Lisa Kudrow - who played Phoebe Buffay in 'Friends' - accompanied Taylor on stage to sing one of Phoebe's classics: 'Smelly Cat'! This by far is our favourite guest yet!
Matt LeBlanc, who played Joey Tribiani in Friends, took to the stage with Tay Tay earlier this week.
The Ultimate Burger Of All Time...Maybe?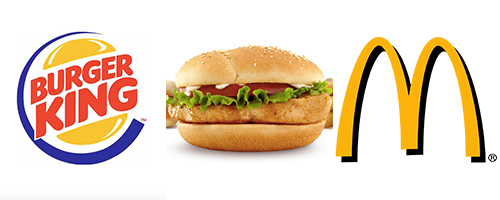 They're sworn rivals, but Burger King have approached McDonalds about joining forces to create the McWhopper.
Meatheads be warned though, the temporary truce won't be available in the UK. Tragic.
Bolt Vs. Gatland Round 2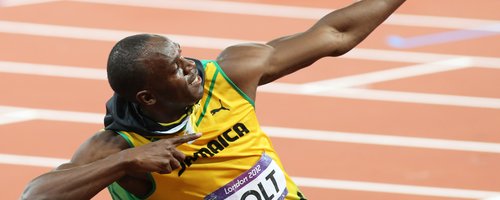 The giants of the track are set for a rematch in the 200m final of the World Championships TODAY after both athletes dominated their semi-finals.
Gatland has already said he only ran at "90%" in the semis and is holding out for the finals. This is definitely one to watch! We're already on the edge of our seats.
International Dog Day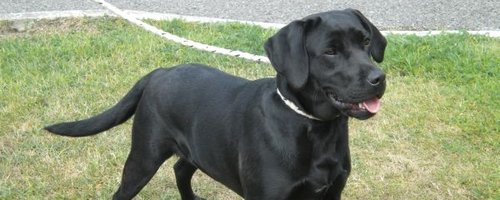 The Nation's top 10 dogs have been revealed. Has your pooch made the cut?
Labrador Retriver
German Shepard
Border Collie
Yorkshire Terrier
Boxer
Cocker Spaniel
Golden Retriever
Cavalier King Charles Spaniel
Bulldog
West Highland White Terrier
Wednesday 26th August 2015:
Benedict Cumberbatch Praised For His Performance In 'Hamlet'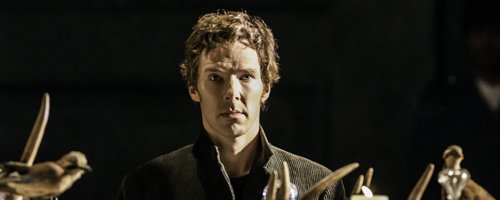 Our favourite Sherlock star Benedict Cumberbatch has received praise for his performance in the opening night of 'Hamlet' at the Barbican Theatre.
The actor, who plays Hamlet, was well supported by friends and family - his proud mum was joined by his wife Sophie Hunter in the audience. Even some of his Sherlock costars turned up to watch. Awww!
From London To Sydney In 90 Minutes!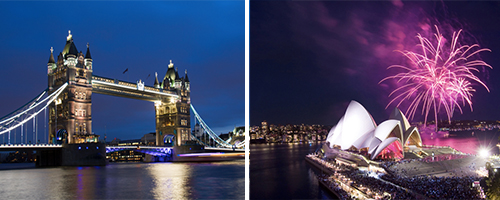 A new SpaceLiner plane could mean that we could get from London to Sydney in just an hour and a half - that's the same time it takes us to get a train from London to Birmingham!
The hypersonic plane will reach 20 times the speed of sound, carry 100 people and could be ready by 2030.
It works by being launched 50 miles above Earth using rocket boosters! It sounds like passengers will have to hold on tight!
Kids Are Returning To School With Gadgets Worth £3.2 Billion!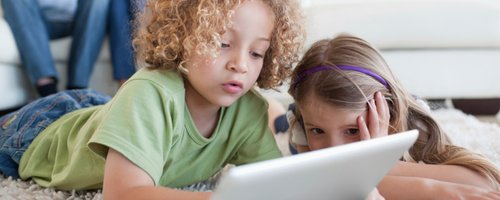 Blimey! Price comparison site uSwitch.com claims that children are heading back to school with a haul of brand new items including crucial techno gadgets, like tablets, smartphones and laptops.
The average spending of parents in Britain on these things is £270 per child. We had better start saving!
The Perfect Formula For Playing Pooh Sticks!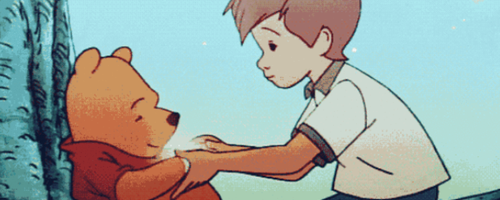 It's the piece of science we've all be waiting for - an engineer has come up with a solution to find the PERFECT stick to make sure you have the best chance of winning the game!
The game was made popular by 'Winnie-the-Pooh' author AA Milne and involves throwing a twig upstream off of a bridge. The winner is the person who threw the stick that appears on the other side of the bridge first!
Researchers at the Royal Academy of Engineering claim that the ideal twig shape is A x I x Cd. A is the cross sectional area of the stick, I is the density and Cd is the drag coefficient - aka. tubby, long and heavy to you and me!
Ed Sheeran Launches His Own Record Label...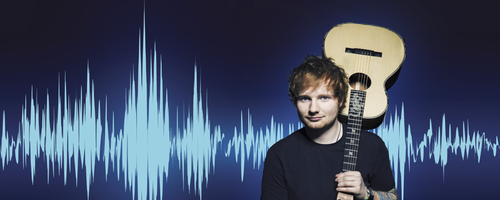 ...And guess what he's called it? Gingerbread Man Music! The four-time-Brit-winner and ginger nut has already signed Jamie Lawson who will be releasing his album by the end of the year.
Ed, 24, is said to be 'excited' for the upcoming project - we wish him luck!
Tuesday 25th August 2015:
One Direction Are NOT Splitting Up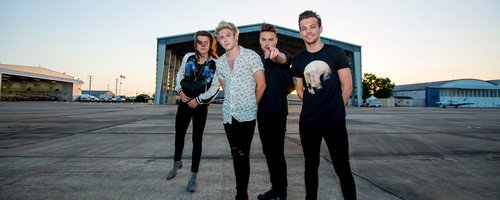 Aaaand breathe parents of angst ridden teens! Despite avid speculation, boyband One Direction will not be splitting up, according to band members Louis Tomlinson and Niall Horan.
Yesterday, it was reported that the boys - who were put together on The X Factor back in 2010 - will be taking a break from the band after the release of their fifth studio album in March 2016.
Both members took to twitter to address the rumours, reassuring devastated young fans the world over:
Your support is truly indescribable! It's just a break :) we're not going anywhere !!

— Louis Tomlinson (@Louis_Tomlinson) August 24, 2015
Ok so Lots of rumours going round. We are not splitting up, but we will be taking a well earned break at some point next year

— Niall Horan (@NiallOfficial) August 24, 2015
The boys are down to four members from five after Zayn Malik decided to leave the band earlier this year. We guess all you parents can cancel the therapy sessions then… phew!
Is The Great British Roast Dying Out?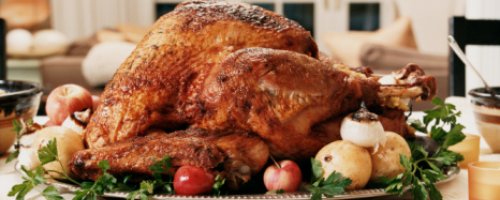 Arrrgh! Traditional roast dinners are apparently in danger of dying out as people swap their meat and two veg for quick-fix recipes.
The amount of roast dinners Brits tucked into last year was 1.34 billion - a drop by 4% on the previous year, according to market research.
Experts are calling on the industry to make meat joints for couples to encourage them to tuck in to a roast dinner. Well that's all the excuse we need - someone pass the roast chicken, there's a love.
Barbie Ditches The Heels And Gets Flats!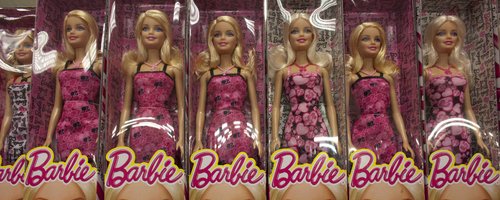 For 56 years she's been tottering around on those heels but it's time to give Barbie's feet a break.
Shoe designer Sophia Webster has created a range of flat footwear for a new collection of the plastic icon - and there's no need to get jealous - they're available in human sizes too!
In a leap in the right direction, the new collection by Mattel also features a wider variety of shapes and sizes, skin tones, eye colours and hair colours. Nice.
Colin The Caterpillar Cake Gets A Makeover For Its 25th Birthday!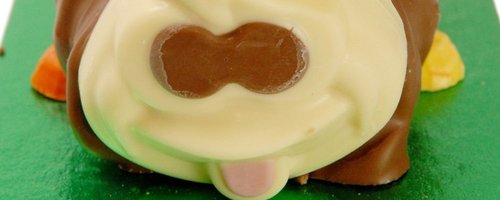 Everybody's favourite go-to birthday cake is getting a makeover!. M&S are launching a special edition of the caterpillar cake in clelebration of 25 years of its success.
He'll be getting a party hat, multicoloured feet and chocolate-coated popping candy.
Wow… he's grown up so fast!
The Top One-Liner Joke At The Edinburgh Fringe Festival Revealed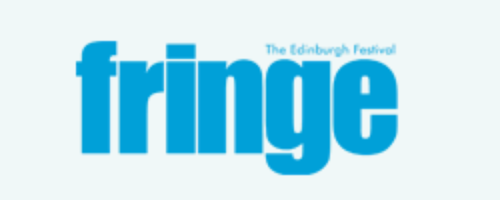 Comedian Darren Walsh has won the prize for the funniest one-liner joke at the Scottish comedy festival in August and was voted for by TV channel Dave.
The pun that won the 39-year-old comedian the top prize was:
"I just deleted all the German names off my phone. It's Hans free."
Come on, 'fess up! Did you laugh? We did!
Ed Sheeran To Star In 'Home And Away'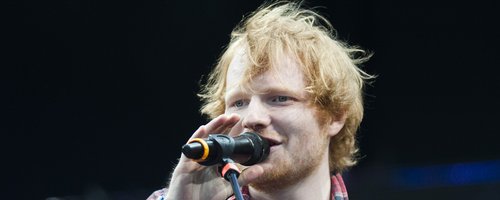 British pop star Ed Sheeran has tried his hand at acting by playing 'Teddy' in 'Home And Away'.
He filmed the cameo last year whilst touring Australia, and now his episode is about to air in the country.
Unfortunately for UK fans of Ed Sheeran and 'Home And Away', we won't be able to see the episode until Christmas!
Catch a glimpse of the episode here!
Monday 24th August 2015:
One Direction To Split After Next Album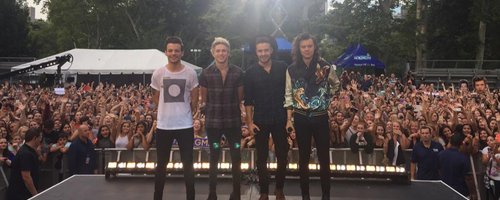 Fans of One Direction will be heartbroken to know that the boyband will be taking a break from music after they release their fifth studio album in March next year.
Reports suggest the boys - who were put together in 2010 on The X Factor - wish to pursue solo careers, although One Direction are yet to confirm this.
Harry Styles, Liam Payne, Louis Tomlinson and Niall Horan already saw fellow bandmate Zayn Malik leave the supergroup in March this year.
Twin Panda Cubs Are Born In Washington DC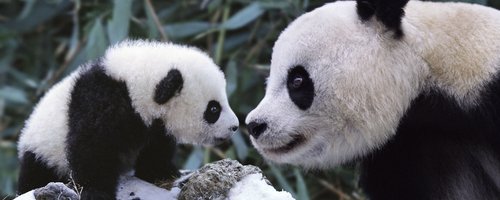 Animal lovers will be overjoyed to hear that after thirty years of trying to breed pandas at Smithsonian's National Zoo in Washington DC, twin cubs have been born to panda Mei Xiang and zookeepers are confident of their survival. Yippee!
Normally, pandas will not care for twins; they will only look after one and let the other die. But officials at the zoo have come up with a clever method of swapping the twins into Mei Xiang's enclosure during critical moments of care while the other stays nice and cosy in an incubator. Neat huh?
Gold For Jessica Ennis-Hill At The World Championships

Don't call it a comeback! Yes Jess has done it again! The sensational 29-year-old athlete has become the 2nd time world heptathlon champion in Beijing just 13 months after giving birth to her adorable son Reggie.
The multi-talented athlete wasn't the only one to walk away happy after Usain Bolt also scooped a gold medal, beating two-time doper Justin Gatlin to the 100m world title.
It wasn't an easy feat for old Bolty though with the runner describing it as the "hardest race" of his career. Blimey!
Microsoft May Make Clothes That Vibrate When You Get A Text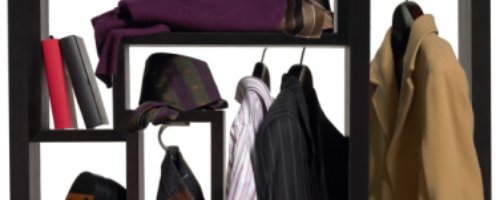 Microsoft has patented technology that could see the company make clothes that will make your skin tingle when you receive an alert.
The brand came up with concept due to people constantly checking your phone in public (which is pretty "rude" really).
Their solution? To send electric impulses to the skin through clothes whenever your phone receives a notification. The brand suggests that the new idea will reduce this social problem as we are often less aware of our phones vibrating than we are when they ring. Talk about sending shivers down our spine!
8 Innovative Apps That Will Help You Win At Life!
Taylor Swift Turns Down $2 Million Gig To Perform At Godson's Christening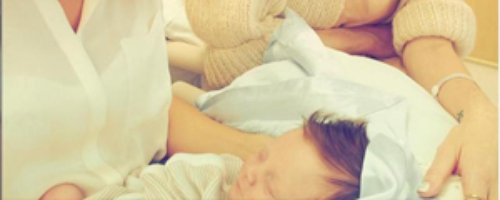 Taylor Swift has turned down the chance to perform at a billionaire's wedding - and to be paid a whopping $2 million(!) by choosing instead to perform at the christening of her best friend Jaime King's one-month-old son.
The 25-year-old 'Bad Blood' singer was made godmother to Leo Thames by the 36-year-old 'White Chicks' actress and is clearly taking her role very seriously.
Jennifer Lawrence Tops Forbes' List Of Highest Paid Actresses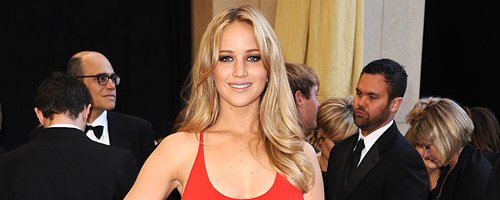 Her performance in successful films such as X-Men and the Hunger Games franchise has earned the 25-year-old actress a whopping $52 million - making her the top of the Forbes' list of highest paid actresses.
The fun-loving actress shot to fame when she landed the role of Katniss Everdene in the Hunger Games series.