Would You Swipe Right? Will Young Is Looking For Love On Tinder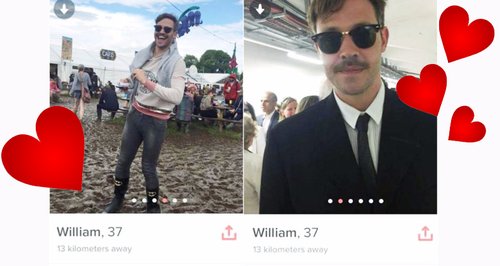 The 37-year-old Pop Idol star has set up a profile on Tinder in the hope of finding a new love interest...
Singer and all-round nice guy Will Young has made the brave move to join Tinder...and we don't think he will be single for long!
The 37-year-old, who came out as gay after winning Pop Idol in 2002, has uploaded some lovely pictures to the dating app and added a brief bio that says 'I like stuff'. Errmmm, okay!
Sadly, Will called time on his relationship with boyfriend Jesse when he returned to America in 2015. He told Attitude magazine at the time, "Sadly romance isn't going well. My ex-boyfriend Jesse has just gone back to America. He was the best relationship I ever had. He was going back for visa reasons and neither of us wanted to do long-distance."
Awwww, that's such a shame!
All you need is a quick glance at Will's Instagram profile to realise he's the perfect catch! Look he loves animals (that's a massive pro point don't you think?!).
And he's into swimming, which means he's going to be fit and healthy. Sounds like perfect boyfriend material!
When asked if he would give a dating app a try, he said: "I never did before because of being famous, but I feel differently now. I know someone who is getting married after meeting online. There are so many ways of people getting together. There are smorgasbords of everything you are looking for. I think I shall become more liberated with the idea."
We admire his confidence - it can't be easy for a famous face to be dating online! Let's just hope he doesn't take advice from his own music videos...
According to rumours things are about to get very interesting for Will, who is said to be foxtrotting his way onto 'Strictly Come Dancing' later this year.
Now this we just have to see!
What do you reckon, could love and a Strictly trophy be on the cards for Will?