Enock Poulsen warns Adam Azim: 'The European title is mine and right now he's only borrowing it'
19 November 2023, 02:33 | Updated: 19 November 2023, 16:36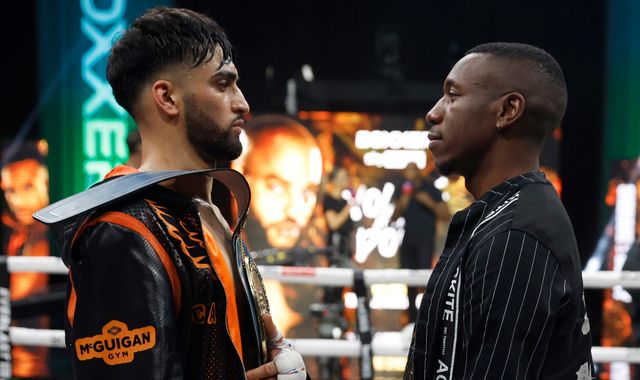 Enock Poulsen, the unbeaten Dane who is a former European champion, was ringside in Wolverhampton to watch Adam Azim batter down Franck Petitjean and win the EBU super-lightweight title.
It's a belt that Poulsen used to hold. Last year he won the championship when he also beat Petitjean. Poulsen had to vacate the belt, which allowed Petitjean back into the title picture and ultimately resulted in the Frenchman meeting Azim in Saturday's fight.
Poulsen is the mandatory challenger for the title that he never lost in the ring. He wants to fight Azim for it next.
Adam Azim hammers Franck Petitjean to win European title
Richard Riakporhe dispatches Dylan Bregeon with devastating strike
Stream the best boxing and more with NOW
"This title is mine and right now he's only borrowing it," Poulsen told Sky Sports. "I will take it back and I will beat Azim in his own hometown.
"It is my title. I was sick 10 days before the second fight with Franck [was meant to happen] and the first one I won, I won clearly. Especially as I had some injures with my shoulder in the fight and I still won."
He considers Azim to be overhyped. "Exactly. He hasn't tried a good opponent," Poulsen claimed. "I know he's very hyped in the UK.
"The fight against me, I'm sure he will lose."
The Dane wants to return to Britain to fight Azim. "I've fought all my life. So I like these big fights," he said.
"I want to be on the big stage. I want to prove to everyone that I'm the real EBU champion. I definitely want to beat him on his home ground.
"It would mean everything."
He insisted he has the tools to beat Azim.
"I have different styles. It depends on my opponent of course because I'm able to adapt. But normally I'm very fast, I'm very slick. I have this ring IQ. I have it all. I have it all to make a fight against Azim very nice for the spectators," Poulsen said.
"If you want to fight we will fight, if you want to box we will box. For me of course I will take the fight to his hometown. Of course I will give him a very, very tough fight. I'm a warrior. And I'm a very skilful boxer."
(c) Sky Sports 2023: Enock Poulsen warns Adam Azim: 'The European title is mine and right now he's only borrowing it'