Everton points deduction Q&A: What next for the Toffees and what about Man City and Chelsea's cases?
20 November 2023, 15:59 | Updated: 22 November 2023, 10:29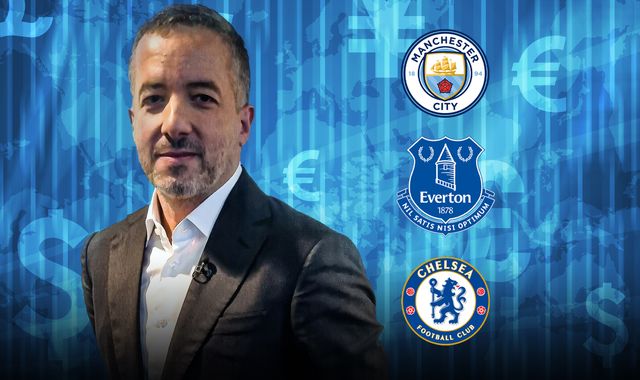 The dust has settled following Everton's shock 10-point Premier League deduction - but one question remains: what happens now?
Everton were handed the highest points deduction in the history of the Premier League for a breach of its profit and sustainability rules.
An independent commission found Everton suffered a loss of £19.5m more than the £105m that Premier League clubs are allowed to lose over a three-year period.
Reporter Notebook: Everton's sense of injustice can galvanise survival
Jamie Carragher: Everton punishment excessive - but they won't go down
Stream Everton vs Man Utd this Sunday on NOW TV
The club will appeal the decision and have until December 1 to submit it. The Premier League will then have seven days to respond to the appeal before it goes to the appeals commission.
In a special Q&A; held on Monday, Sky Sports News chief reporter Kaveh Solhekol answered all the important questions on Everton - and how it affects similar Premier League investigations into Manchester City and Chelsea...
All Together Now statement
What are Everton's odds of getting a points deduction changed to a fine or a transfer ban?
There is a chance that could happen. The general feeling in football seems to be that the punishment is harsh.
The new panel may come to a different decision. The appeal will be heard by a new panel of senior lawyers and financial experts and they have the power to either allow or dismiss the appeal, and vary any penalty imposed. They can change the punishment.
How long will Everton's appeal process take?
We don't have an exact timeframe on how long the appeal process will take but every effort will be made to make sure it will be completed before the end of the season.
The last thing the Premier League will want is there to be any uncertainty over who is staying up and who is going down at the end of the season.
Everton had 14 days to lodge their appeal and they have already made it clear that they will be taking up that option.
What their appeal will focus on will be trying to convince the panel that they should be allowed to make the extra £19.5m worth of deductions that they wanted to which would have prevented them from breaching the rules.
If Everton were to lose their appeal, is there anything else they could do to have it overturned?
The decision of the appeal's board is final - except in unusual circumstances, such as serious errors being made by the commission.
For example, if they got the maths significantly wrong. The difficulty Everton have got with an appeal is that they have already admitted they are guilty.
In appealing, what they want is to reduce the punishment rather than establish their innocence.
Everton would not be able to take the case any further, to the law courts or the Court of Arbitration for Sport.
Why are Everton fans being punished for something that has nothing to do with them?
I've got a lot of sympathy for them because they are the ones being punished for something that has nothing to do with them.
I think this whole story is much bigger than just Everton. English football in the modern era has an ownership problem.
Too many people are buying football clubs without fans knowing what their real motives and objectives are.
What has happened to Everton could have happened to virtually any club.
The long-term answer across all four divisions is to have much stricter rules about who is allowed to buy clubs.
Should Everton fans be worried that this is the first of more potential points deductions?
Look, Everton are in serious trouble but the size of the club and its fanbase means that there is light at the end of the tunnel - especially if they can avoid relegation this season.
Sean Dyche will be using this to galvanise his players. Most neutrals still expect Everton to stay up even with a 10-point deduction, and it would be no surprise if they beat Manchester United on Sunday.
Off the pitch, the legal problems are not going to go away, and there is still the real possibility that some of Everton's rivals will sue for compensation and there is continued uncertainty about the takeover process of 777.
From a football perspective, Everton have got the players and the manager who can keep them up. You just have to hope for the sake of the fans that they will soon get the right owners to lead them into a new chapter at their new stadium.
Will Everton stay in the Premier League if their 10-point deduction is upheld?
Speaking totally personally, I still think there's a good chance the punishment will be reduced on appeal, and that's the general feel in the game.
Looking at Everton's recent form, there's every reason to believe that they can stay up although they will want to make sure they have the before they travel to Arsenal on the final day of the season.
What will happen to Man City with the 115 breaches and why is it taking so long?
The Premier League started investigating Manchester City five years ago and it's totally understandable why people would think that the whole process has taken far too long.
In the Premier League's defence, this is an extremely complex case. City have used all legal avenues available to them to defend their position and their interests.
As far as City are concerned, they are totally innocent and they are confident that they will be cleared.
The Premier League has to follow due process and it is an extremely difficult position because they can't say anything in public in order to make sure the case is not compromised in any way.
As Chelsea have not been formally charged, is there a cause for concern?
There obviously is a cause for concern because Chelsea's new owners self-reported issues which came to light during the takeover process last year.
The Premier League are believed to be investigating payments which were made off the books relating to player transfers.
To be fair to Chelsea, they reported these apparent discrepancies to UEFA, the FA and the Premier League as soon as they came to light.
UEFA acted relatively quickly and fined them £8.6m (€10m) for historical FFP breaches under the previous ownership of Roman Abramovich.
I am not sure they will be much sympathy from rival fans for Chelsea's problems but you have to give them credit for going through the authorities as soon as the issues came to light.
How genuine and likely is talk about potential relegation for Man City and Chelsea?
Speaking hypothetically, an independent commission would have the power to punish a club with relegation but we should make clear that Man City insist they have done nothing wrong, and Chelsea have not been charged with anything.
Obviously, a punishment handed down to Everton for one rule breach has created a climate where people will be expecting harsher punishments for more serious rule breaches.
The Man City case will be heard by a different panel and the case is totally different. They are the ones who will hear all the evidence and they're the ones who will decide whether City are in breach of any rules and what form any potential punishment should take.
I would emphasise again that the City case is completely different from Everton's - and it goes back as far as 2009.
(c) Sky Sports 2023: Everton points deduction Q&A;: What next for the Toffees and what about Man City and Chelsea's cases?