Heartbroken Japanese fans stay to tidy stadium despite being out of World Cup
3 July 2018, 08:46 | Updated: 3 July 2018, 08:53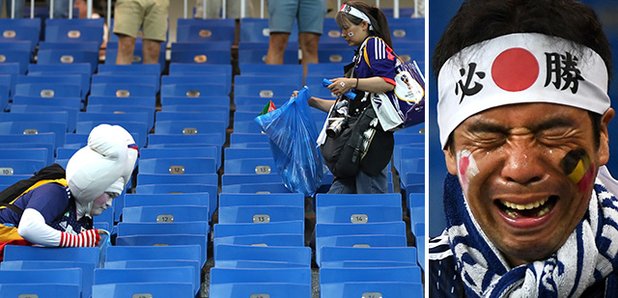 The devastated fans were still thoughtful enough to stay and litter pick the Rostov Arena.
Japan suffered a heartbreaking crash out of the World Cup against Belgium in the final minutes of injury time.
The country were 2-0 up for over seventy minutes, but conceded three late goals which saw their hopes of World Cup victory fade.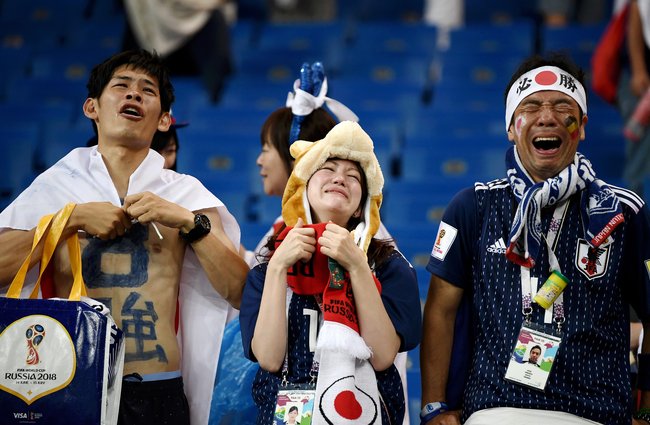 Credit: Getty - Japan lost the match in the 94th minute
However, despite the devastatingly cruel blow, many of the fans remained in the stadium after the match had ended to help tidy up - still swaddled in their patriotic outfits.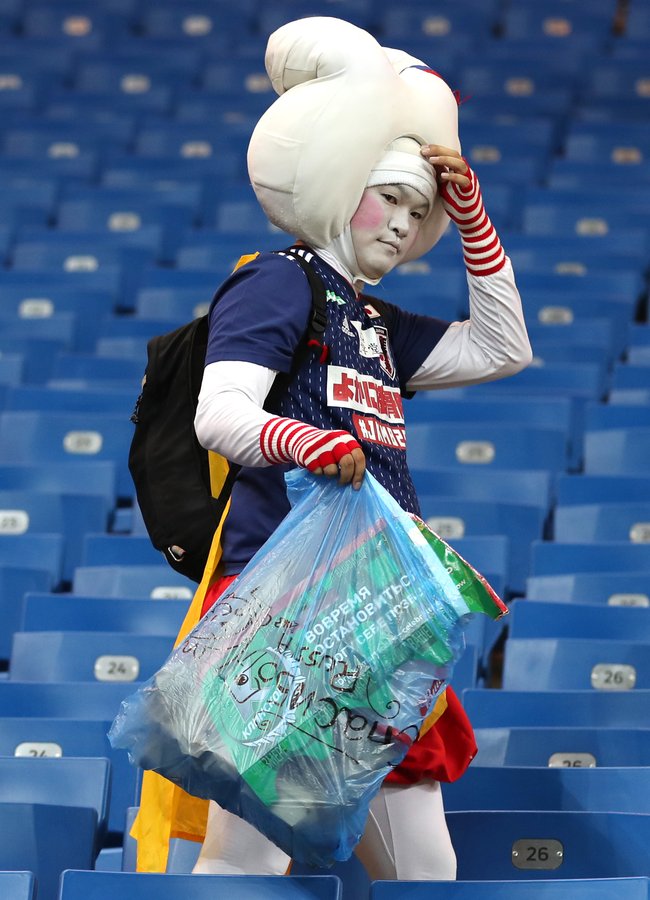 Credit: Getty - Japanese fans stayed behind to tidy the stadium
Many fans were pictured with tears streaming down their faces at the agony of their defeat, but it did not stop them taking refuse bags and collecting the litter in the Rostov Arena - long after everyone else had left.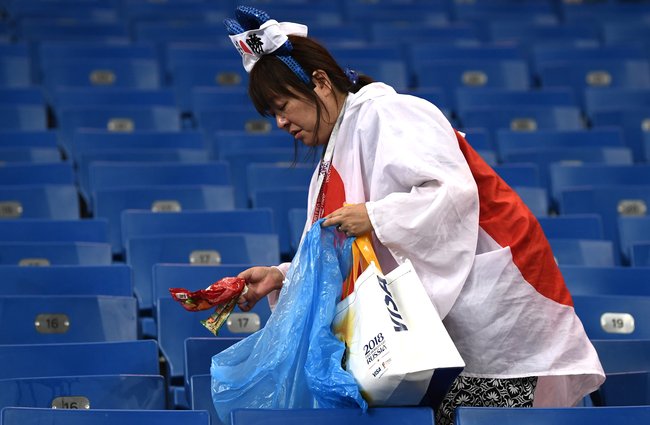 Credit: Getty - Forlorn fans made sure the stadium was tidied before they headed home
This rare move of graceful sportsmanship tugged on the heartstrings of football fans across the world, and many took to Twitter to applaud the Japanese fans for their dignity and grace.
#Japan Fans Cleaning The Stadium. They Might Have Lost The Match But The Team And Its Fans Won Our Hearts. #BELJPN #JPNBEL #WorldCup2018 #WorldCup pic.twitter.com/WCFXyccgOj

— Sir Ravindra Jadeja (@SirJadejaaaa) July 2, 2018
Lose 3-2 in the 90th minute to Belgium.

Still stay behind and clean rubbish from the stands.

Take A Bow, Japan Fans. pic.twitter.com/MpUgdbomvu #BELJPN #ESPRUS #BRAMEX #Japan #WorldCup #WorldCupRussia2018 #WorldCup18

— Alam Shaikh ® ™ (@skalamz) July 3, 2018
One might pack their bags and hurry away after a heart-breaking defeat like the one #JPN suffered at the hands of #Bel in #BELJPN.

Not #Japan fans. They had to stay behind and help clean the stadium after #WorldCup.

If one has to fail, fail like Japan. #FailLikeJapan #Inui pic.twitter.com/Rr6kidYhdb

— Ronnie (@kxronne) July 3, 2018
Japan have never won the World Cup - or even made it to the semi-finals. This year was only the second time in history that the team made it through the group stages to the final sixteen.
The World Cup is currently in the 'final sixteen' stage, which will then see the eight winning teams go through to the quarter finals. The four victorious teams will then continue to the semi's.
The World Cup final will take place on Sunday 15th July at 4pm.
WATCH! Harper Beckham shows off her football skills: