USA Swim Team Are Winning In The Pool AND On Youtube With This Hilarious Carpool Karaoke!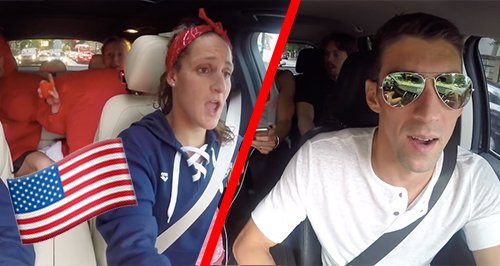 This amazing James Cordon inspired Carpool Karaoke from the USA swim team will make you LOL!
When we see olympians on the television getting ready for their events, they are always in the zone and looking seriously focused!
So its great when we see athletes letting their hair down and their personality shines through. It also makes you realise that they're not just perfectly sculpted sporting super humans...but real people too!
The USA swim team certainly showed their fun side in an AMAZING James Corden inspired Car Pool Karaoke.
The swimmers sung a medley of songs including Fifth Harmony's BO$$ and Party In The USA by Miley Cyrus accompanied by some pretty hilarious dance moves and very random outfits.
At one point they even ask a passer by if he knows the directions to get to Rio and he didn't seem too confident with his answer.
Looks like they found their way though as team USA are smashing it in the pool! Well done guys!