Las Vegas GP: Max Verstappen wins thrilling race as Charles Leclerc beats Sergio Perez to second
19 November 2023, 03:02 | Updated: 19 November 2023, 21:04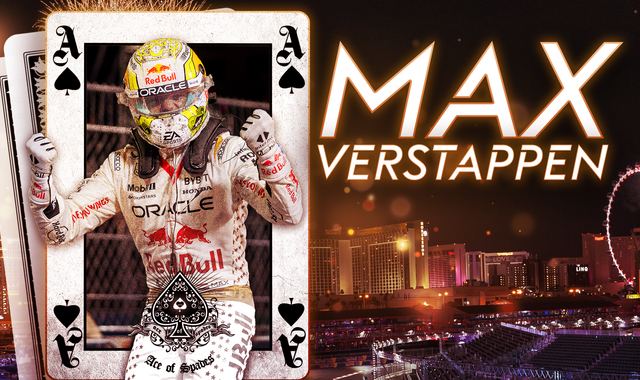 Max Verstappen overcame a collision and penalty to win a chaotic race as Formula 1's return to Las Vegas resulted in a thrilling contest.
Pole-sitter Charles Leclerc denied Verstappen's Red Bull team a one-two by overtaking Sergio Perez on the final lap, having cruelly had his chances of victory ruined by the second of two Safety Cars.
Leclerc had been the favourite for victory after establishing an advantage over Verstappen, who was made to serve a five-second penalty at the first round of pit stops for forcing the Ferrari off track when overtaking at the first corner.
Las Vegas GP: Race result | 2023 F1 standings
Lewis Hamilton: Vegas thrills proved the 'show' critics wrong
Stream every F1 race and more with NOW
Get Sky Sports | Listen to the Sky Sports F1 Podcast
However, when Verstappen pitted under the Safety Car, the Dutchman's fresher tyres enabled him to surge back through the field and eventually pass Leclerc with 13 of the 50 laps remaining.
Verstappen, who has already sealed a third-successive drivers' title, claimed a record-extending 18th win of the season and 53rd career victory to move level with Sebastian Vettel in third on F1's all-time list of winners.
"It was a tough one," Verstappen said. "I tried to go for it at the start. We (himself and Leclerc) both braked quite late and I just ran out of grip, so we ended up a bit wide.
"The stewards gave me a penalty for that and it put us on the backfoot. I had to pass quite a few cars and there was the Safety Car, so at that point there was a lot going on.
"Then we went flat out. I had to pass a few cars to get into the battle with them. The DRS around here was very powerful. Even when you would take the lead, if the guy behind stays in the DRS, he would still have the opportunity to come back to you, so it created a lot of good racing today. Definitely a lot of fun."
Despite being overtaken on the final lap for a second straight race, Perez's third place was enough to seal second in the world championship and a first ever one-two for Red Bull in the drivers' standings.
Alpine's Esteban Ocon and Aston Martin's Lance Stroll also took advantage of the chaos to seal impressive fourth- and fifth-placed finishes.
Carlos Sainz recovered from 12th on the grid to finish sixth, having had his weekend ruined by a controversial 10-place grid penalty handed out for exceeding his engine part allowance after an incident caused by a faulty water valve cover in first practice on Thursday.
Lewis Hamilton advanced from 10th to seventh, overcoming two collisions, the second of which - with McLaren's Oscar Piastri - resulted in a puncture, while his Mercedes team-mate George Russell was demoted from fourth on the track to eighth after receiving a five-second penalty for his collision with Verstappen.
Fernando Alonso recovered from a first-corner spin to take ninth, with Piastri sealing the final point.
McLaren's Lando Norris caused the first Safety Car after a huge shunt on lap 4, which saw the British driver sent to hospital for precautionary checks.
Las Vegas GP result
1) Max Verstappen, Red Bull
2) Charles Leclerc, Ferrari
3) Sergio Perez, Red Bull
4) Esteban Ocon, Alpine
5) Lance Stroll, Aston Martin
6) Carlos Sainz, Ferrari
7) Lewis Hamilton, Mercedes
8) George Russell, Mercedes
9) Fernando Alonso, Aston Martin
10) Oscar Piastri, McLaren
Verstappen overcomes chaos again
Verstappen's ability to overcome just about whatever is thrown at him has been a key factor in the Dutchman's historically dominant campaign, and his ever-growing skillset was needed perhaps more than on any other occasion in 2023.
He continued his recent strong starting form to get a better launch than Leclerc despite being on the dirty side of the grid, but was then found guilty of pushing the Ferrari off track, as he also ran wide, when completing a pass into the first corner.
Having opted not to give the place back, Verstappen received a five-place penalty that he would be required to serve at his first pit stop.
Such were Verstappen's struggles with making his tyres last, Leclerc had already regained the lead before that stop, cruising past the Red Bull on lap 16.
Verstappen stopped a lap later and came out in 11th after serving the penalty, having also lost track position to Russell, who had started third.
They would advance to fourth and fifth, respectively, before colliding at Turn 12 as Verstappen attempted to complete a pass up the inside.
Russell was found by the stewards to have caused the collision, and received a five-second penalty of his own that he would have added at the end of the race.
The collision also created significant enough debris for the race director to call for a Safety Car, but the parts of Verstappen's front wing that he lost appeared to make little difference.
Both Verstappen and leader Perez pitted, while Leclerc, who had made his first stop just five laps earlier, opted to stay out.
The decision would prove to be a mistake as the fresher tyres gave the Red Bulls a significant advantage.
However, the chief beneficiary at first appeared to be Perez, who was second - three places ahead of Verstappen - when the race resumed.
The Mexican looked to be on course for victory when he went past Leclerc on lap 33, but he surprisingly couldn't pull away, and Leclerc took the place back just a couple of laps later.
Verstappen followed Leclerc through a lap later, and was into the lead on the following circuit as he swung the race in his favour.
Perez retook second when Leclerc ran wide with seven laps to go, but the Ferrari chased down the Red Bull to set up a thrilling finale.
Verstappen dropped back slightly in an attempt to give his team-mate a tow up the 1.1-mile straight on The Strip, but it was not enough as Leclerc dived up the inside to take back second.
While Leclerc could not avoid extending what is now a 12-race streak of failures to convert pole position into victory, second was the least he deserved for a weekend on which he drove superbly throughout.
Collisions prevent Mercedes from utilising strong pace
While Verstappen and Leclerc battled for the lead at the first corner, Perez was involved in one of several collisions behind them as he drove into Valtteri Bottas' Alfa Romeo.
Alonso triggered more contact with his spin, while Sainz and Hamilton also collided.
The resulting debris on track triggered a Virtual Safety Car, but the action only briefly resumed before Norris' huge accident.
The Brit has been in fine form but lost control of his McLaren on the run towards Turn 12 and made contact with the barrier, before carrying on through the run-off area and into another tyre wall.
After a precautionary trip to hospital, Norris is understood to have not suffered any significant injury.
Hamilton, who dropped down to P14 after the first lap, was showing impressive pace to advance through the field.
However, an attempt to take sixth from Piastri went wrong as their tyres came together, leaving the seven-time world champion with a puncture that brought him into the pits and back down to 19th.
Hamilton later showed more strong speed to pip Russell to seventh, but will ultimately be disappointed to have got little out of a pace that wasn't far off that of the front-runners.
Mercedes will go to next weekend's season finale in Abu Dhabi with just a four-point lead over Ferrari in the constructors' standings, as they fight to be best of the rest behind Red Bull.
After the thrills of Las Vegas, Formula 1 heads to Abu Dhabi's Yas Marina Circuit for the 2023 season finale and another stunning spectacle under the lights. Watch the Abu Dhabi weekend live on Sky Sports F1, with lights out on Sunday at 1pm. Stream F1 on Sky Sports with NOW
(c) Sky Sports 2023: Las Vegas GP: Max Verstappen wins thrilling race as Charles Leclerc beats Sergio Perez to second