Calls for World Cup pundit to be sacked for 'sexist' remark to female player
18 June 2018, 11:13 | Updated: 18 June 2018, 11:36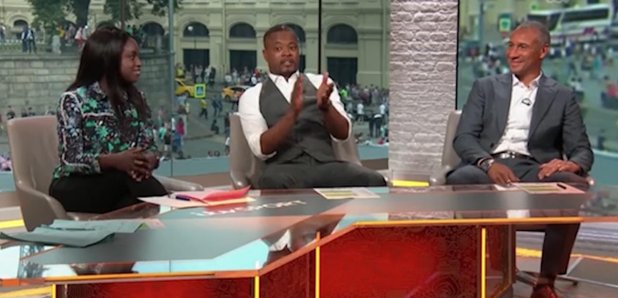 Patrice Evra received backlash from viewers after applauding Eni Aluko for her analysis of Costa Rica's match against Serbia at the World Cup in Russia.
Viewers have been calling for West Ham star Patrica Evra to be given the sack for his "condescending" and "patronising" behaviour towards England Women's star Eni Aluko.
The female professional footballer, who has made more than 100 appearances for England, had been chosen by ITV to act as a pundit alongside the former France captain Evra and former Sweden striker Henrik Larsson during its coverage of the World Cup in Russia, but viewers were soon left with a sour taste in their mouths.
After Eluko assessed Costa Rica's defensive and attacking capabilities, Evra appeared impressed and applauded her for her "very good" analysis.
Why is @Evra surprised that @EniAlu who that has played over 100 times for her county understands football, and has done some basic preparation before going on air? #EverydaySexism pic.twitter.com/6M3tWJmmnk

— Duncan Hart (@pompeydunc) June 17, 2018
His enthusiasm didn't go unnoticed as presenter Jacqui Oatley asked Evra: "Are you going to sit here applauding Eni's punditry all day?"
Evra then replied: "This is just amazing, I think we should leave Henri, because she knows about more football than us! I'm really impressed you know."
Fans were quick to despair, with many pointing out his comments were "everyday sexism".
Just seen the footage of Patrice Evra clapping Eni Aluko for her work as a fellow pundit. It's embarrassing! Clearly sees her as a threat.

— FK (@fkhanage) June 17, 2018
Really patronising comments from Patrice Evra about Eni Aluko on the ITV coverage, she's an international footballer with over 100 caps, she shouldn't be congratulated for being able to talk about football for 30 seconds.

— Gordon Scanlan (@GordonScanlan) June 17, 2018
Why is @Evra surprised that @EniAlu who that has played over 100 times for her county understands football, and has done some basic preparation before going on air? #EverydaySexism pic.twitter.com/6M3tWJmmnk

— Duncan Hart (@pompeydunc) June 17, 2018