Rio You've Been Record Breaking! Team GB Has Best Medal Haul EVER!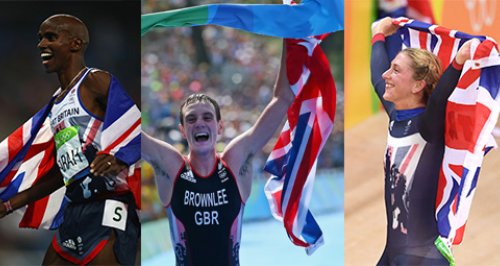 The Olympics is over - what on earth will we watch on TV now?! Rio, it's been wonderful!
It wasn't a bad final weekend in Rio for Team GB!
The last minute medals meant that our little island of the coast of Europe came in SECOND on the leaderboard with a grand total of 66 medals across the entire games.
Team GB have now won more medals at the Rio Olympics than they did at London 2012. We're now up to 66. #HeartNewspic.twitter.com/BlT5Coi5vC

— Heart London News (@HeartLondonNews) August 21, 2016
But it was Team GB's gold sweep that took the team into second position to beat China with 27 gold medals in total - the most ever won by the British team at a foreign games!
Well done guys, everyone at home is super proud!
Many celebrities, sport stars and ex-Team GB members took to social media to express their pride at what an amazing games it has been for British sport.
Congratulations @TeamGB your amazing performance at #Rio2016 You absolutely smashed it #BringOnTheGreat

— The Body Coach (@thebodycoach) August 22, 2016
Thank everyone back home.....!!! Love you guys......!!! Shabba.....!! pic.twitter.com/S9ofPwffJu

— Mo Farah (@Mo_Farah) August 14, 2016
That's it for Rio. Loved it. Going to closing w family. Then hols. Twitter+Olympics is magic. Hugs all round. Torrent of my tweets ends!!

— Matthew Pinsent (@matthewcpinsent) August 21, 2016
66 medals for @TeamGB . More than in London 2012. Astonishing collection given our population. Now if we could just sort out our football.

— Gary Lineker (@GaryLineker) August 21, 2016
As one games draws to a close, in true sporting style, all our athletes are already looking forward to the next games which will be hosted by Tokyo.
Truly heartbroken. but I will never give up on my dream of being an Olympic champion. pic.twitter.com/lflU8vACod

— Tom Daley (@TomDaley1994) August 20, 2016
The 2020 games will sadly be an Olympics without track legends Usain Bolt and Mo Farah, but will include Tom Daley after his disappointment of not making the men's 10m platform finals at this game.
Rio you've been emotional and Team GB you've been inspirational - see you in Tokyo!