Gold Medal Worthy Moments! Our Pick Of The Best Of Rio 2016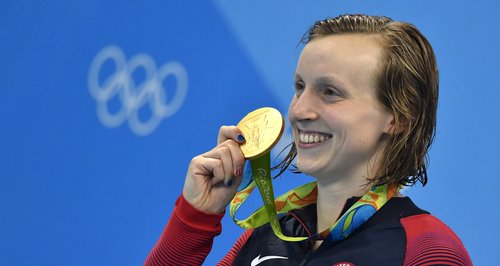 The Olympics are always full of amazing, memorable and emotional moments. Stay up to date with Heart's pick of the best of Rio!
The Olympics are always full of amazing, memorable and emotional moments. Stay up to date with the Heart's pick of the best of Rio!
Male Swimmers Are Feeling The Pressure Of This Female Olympian!
It's been revealed that during training many male swimmers have been feeling the pressure of USA swimming superstar, Katie Ledecky.
According to fellow US teammate Conor Dwyer, she's been known to 'break' male athletes who train in the pool with her!
In an interview with the New York Times he said:
'Your morale goes down pretty quickly when you get broken by a female in practice. I saw a couple of guys have to get yanked out of workout because they got beat by her."
Another Gold Moment For Team GB!
Team GB bagged another gold medal in the pool yesterday thanks to diving team Jack Laugher and Chris Mears. The duo beat China to the top of the podium in the men's synchronised 3m springboard final.
Elsewhere in Rio, Joe Clarke bagged a gold for Great Britain in the Canoe Slalom which has brought Team GB up to 9th position in the medals table.
Michael Phelps Kisses Adorable Son After Winning ANOTHER Gold!
Michael Phelps unsurprisingly bagged another gold in the pool and one of the first people to congratulate him was his baby son, Boomer.
After swimming to victory he headed straight over to his fiancé Nicole Johnson and their two year old son who were cheering him on the poolside.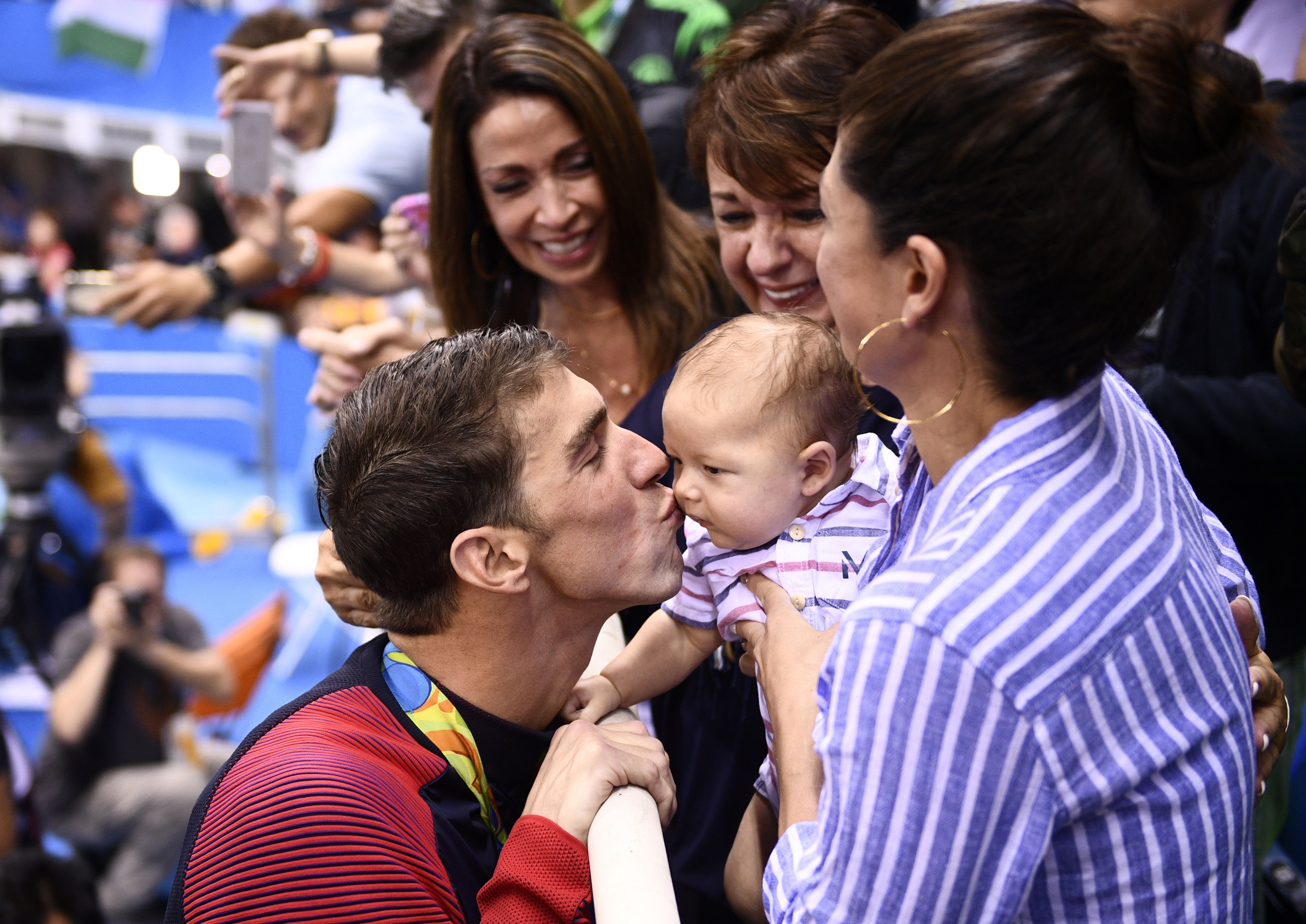 Picture| Getty
People Keep Spotting Strange Circle Marks On Athletes And You'll Never Guess Why!
Across social media people have been speculating about why athletes keep popping up at the Olympics in Rio, covered in red circles.
Athletes across many events have been seen to have these marks including USA swimmer, Michael Phelps. It turns out that these shapes are left over from a form of therapy called 'cupping' that athletes are using to ease aching muscles during this intense period of physical activity.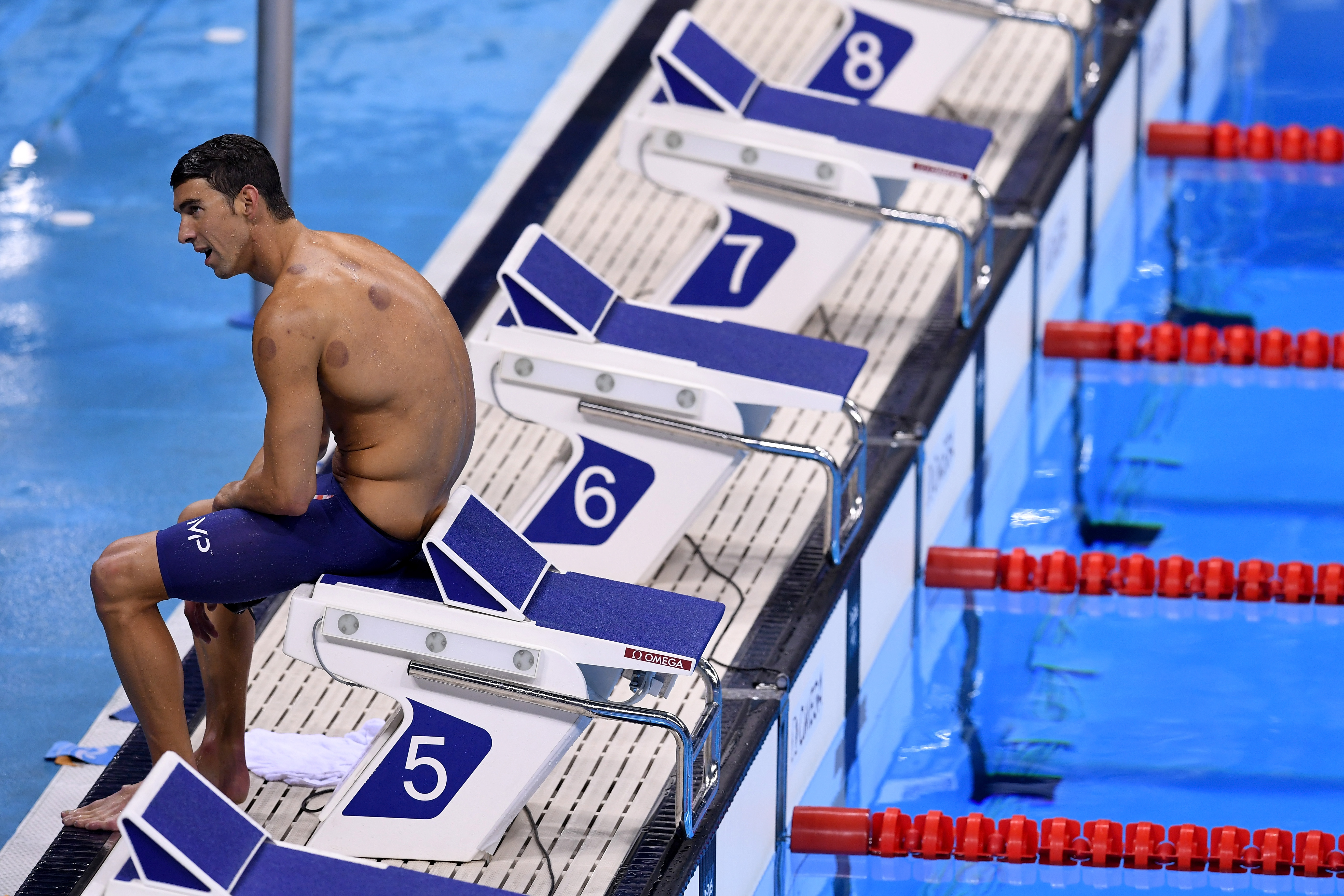 Picture | Getty
This Video From The 1992 Olympics Is Melting Everyones Heart!
A video from the 1992 Barcelona Olympic Games has gone viral after its story touched the hearts of thousands with its inspirational message.
Team GB's Silver Night In The Pool!
Team GB bagged themselves two silver medals in two of the swimming events at Rio's Aquatic Stadium in fantastic performances from Siobhan Marie-O'Connor in the 200m medley and the mens 4x200m freestyle relay team.
The team came in second only to the USA for whom swimming legend Michael Phelps swam the last leg and resulted in him bagging his 21st Olympic title - WOW!
Olympic Pool Turns GREEN During Women's Diving Final!
The pool looked totally different from its usual clear blue last night during the women's 10m platform diving final.
it had turned a swampy green colour much to the surprise of athletes and spectators. and one things for sure, it didn't look like something you'd want to swim in!
Ermmm...what happened?! pic.twitter.com/pdta7EpP2k

— Tom Daley (@TomDaley1994) August 9, 2016
Tom Daley And Dan Goodfellow's Epic Bronze Medal Hug Ends Up In The Pool!
The boys managed to scoop a bronze medal in the men's synchronised diving, taking third place after China and the USA.
The pair were so pleased with the results of their notoriously difficult three-and-a-half somersaults and pike that their celebratory hug ended up in the water!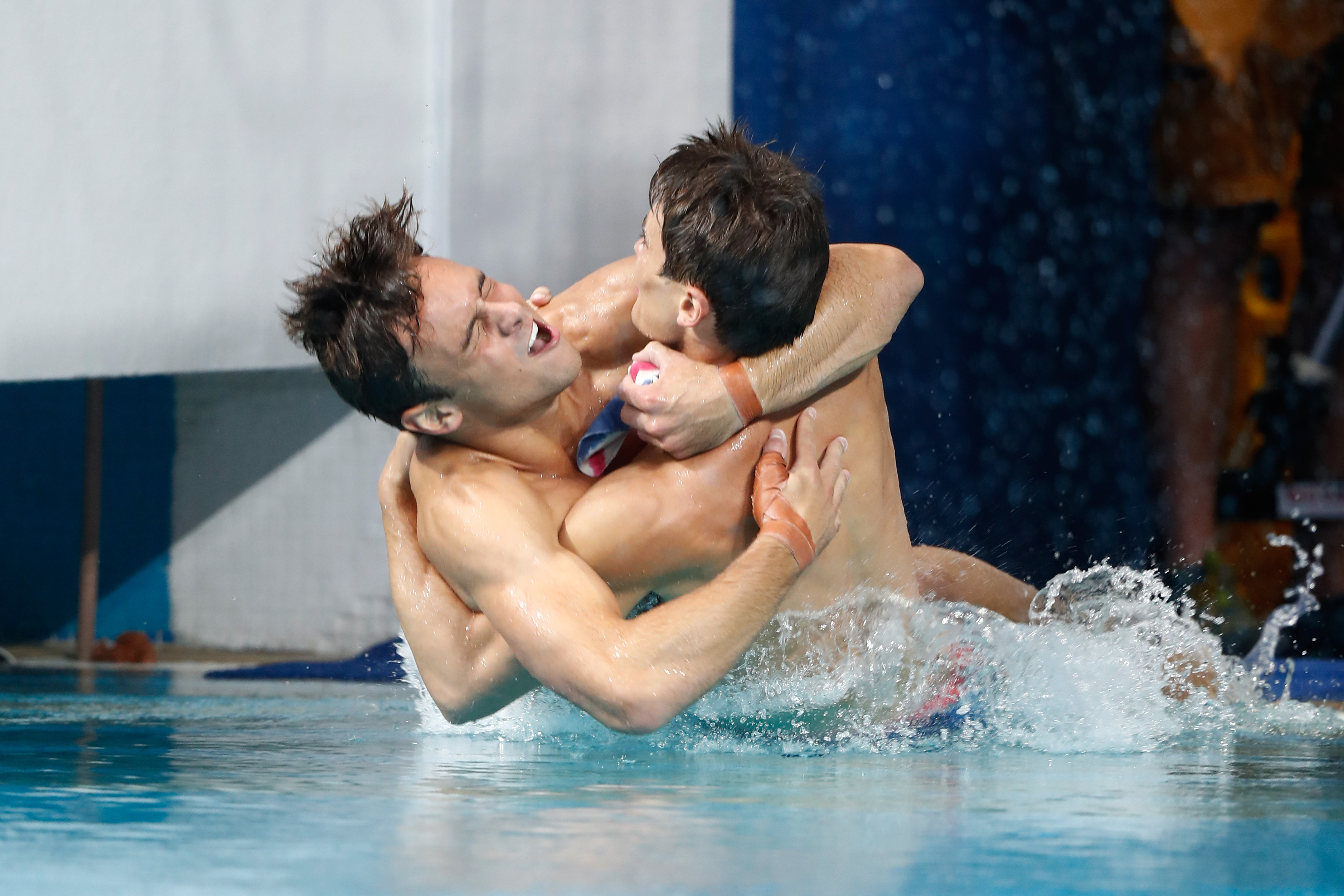 Picture | Getty
Tom Daley's Dive Partner Dan Goodfellow Is Left Off Todays Front Pages...And His Mum Isn't Happy!
After the duo's Olympic bronze last night, disappointingly a few national papers haven't recognised the joint effort of the Team GB boys instead only showing Tom Daley on the front pages.
And unsurprisingly, Dan Goodfellow's mum isn't happy! She expressed her annoyance on Twitter today in response to a few Twitter users posting the front page of various publications...
@suttonnick I am very surprised by this photo. Is it for real? I am Dan's mum

— Sharon Goodfellow (@goodfellowshar1) August 8, 2016
However lots of Twitter users have expressed their support for her and son Dan, and are acknowledging that the fantastic win from the pair was a TEAM effort despite Daley's celeb status.
What what we do without our mum's support eh?
Jamaica's Usain Bolt Arrives In Rio In Style!
He's the fastest man in the world and now he's proved that he's got some serious moves too. Bolt danced with several scantily-clad Samaba dancers at the end of a press conference in Rio. He's seriously getting into the spirit of embracing the culture!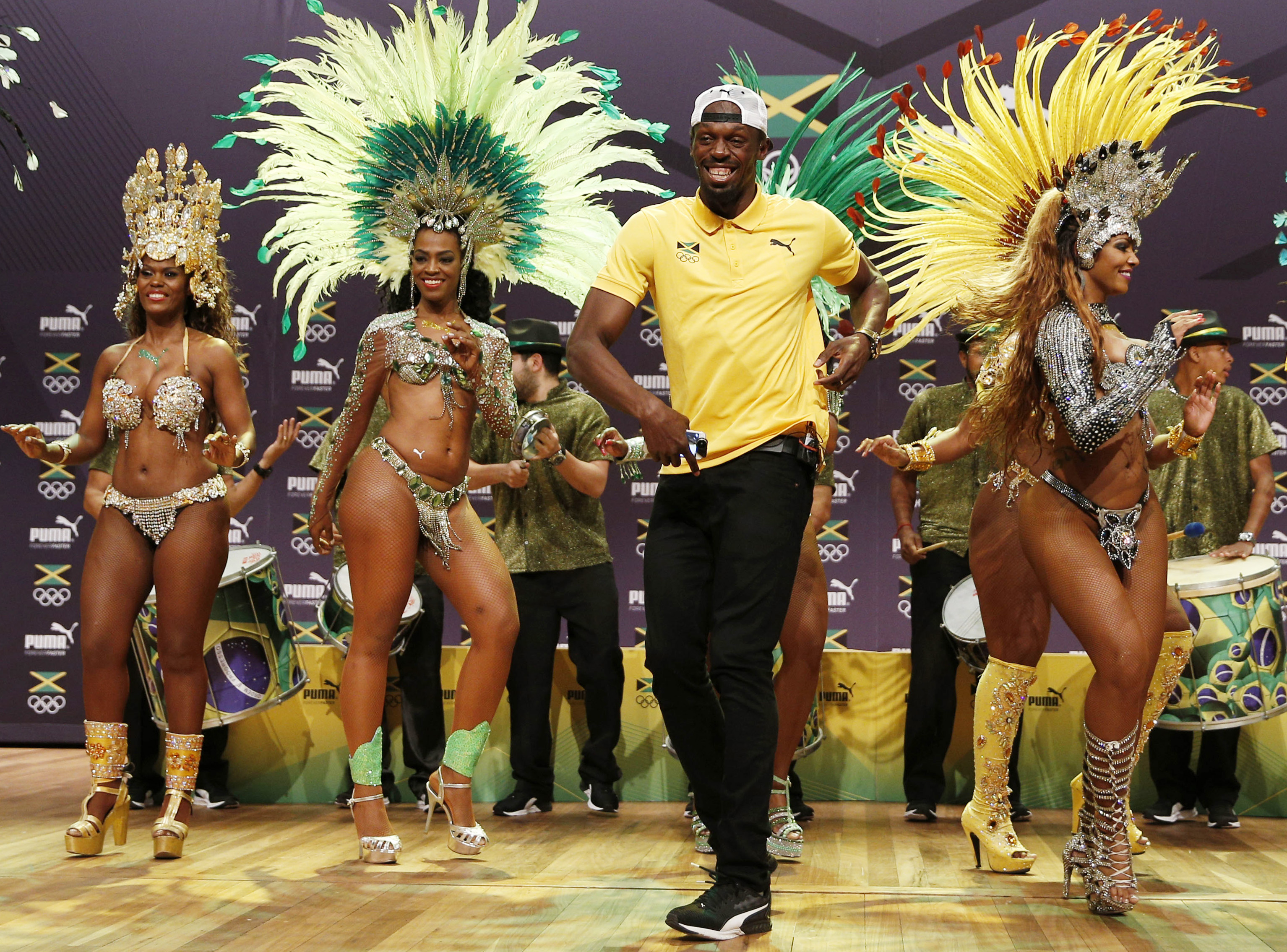 Picture | Getty
South Korea and North Korea United Over A Selfie
Two gymnasts have become an icon of unity after they were snapped taking a selfie together. South Korea's Lee Eun Ju and North Korean Hong Un Jong didn't seem too bothered by the discord between their two countries as they got to know each other before competing. It was a beautiful moment.
North Korea's Hong Un-jong and South Korea's Lee Eun-ju. I love the Olympics. pic.twitter.com/10vvR23AQj

— Bryan Armen Graham (@BryanAGraham) August 7, 2016
We Have A Winner! Team GB Wins Its First Gold Medal At Rio
The Olympics has only just started and Team GB has already won its first gold!
British swimmer Adam Peaty swam to gold in the Men's 100m breast stroke finals in Rio this weekend.
And as if winning the Gold wasn't enough, he beat the world record finishing the race way ahead of the pack in an astonishing 57.13 seconds.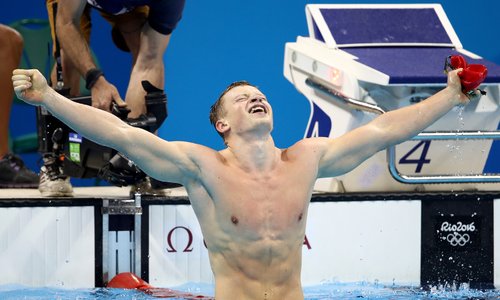 Rio is 21 year old Peaty's first Olympics and the youngster has a supportive family cheering him on in his home town of Uttoxeter, Staffordshire.
This includes his nan, Mavis, who was incredibly proud of her grandson and expressed her joy at the win on Twitter!
My Grandson has done it @adam_peaty @britishswimming @adam_peaty

— Mavis (@Mavise42Mavis) August 8, 2016
Well you have done it @adam_peaty you have made it, your hard work paid off. Congratulations to you and @massivemel. So proud love Nan x

— Mavis (@Mavise42Mavis) August 8, 2016
So many people think that 'Olympic Nan' Mavis is so cute that her Twitter followers have jumped from 106 on Sunday morning to a current total of almost 5,000!
We think she's adorable!
Serena Williams TWERKS At The Rio Olympics Opening Ceremony!
Tennis superstar and Team USA athlete Serena Willliams shared her joy with the world via Snapchat as she enjoyed the opening ceremony of the Rio 2016 Olympics with team mates.
On her Snapchat she was seen twerking away, much to the delight of other athletes who were also videoing her booty shaking!
This came after earlier snaps where she expressed her exhaustion at sitting on the team bus for around 6 hours before the evenings events took place.
By the looks of her dance moves, she seemed to have cheered up pretty quickly!