Arnold Schwarzenegger Acts Out All His Movies With James Corden In 6 Minutes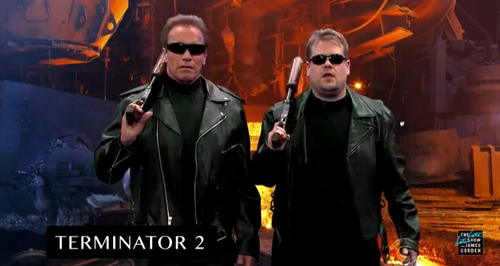 Watch the 'Terminator' star team up with 'The Late Late Show' host for a hilarious recap of all his major roles to date...
Arnold Schwarzenegger treated fans to a repeat of his most well-known roles in a 6 minute recap of his career on 'The Late Late Show with James Corden'.
The hilarious clip sees the pair re-enact some of Arnie's most iconic movies, including 'Conan The Barbarian', 'Predator', 'Twins', 'Terminator', 'The Expendables', 'Total Recall', 'The Running Man', 'Batman & Robin' and 'Kindergarten Cop'.
The 67-year-old was on the show to promote his new 'Terminator' film 'Terminator Genisys', which sees him reprise his most famous role as the futuristic killing machine, alongside 'Game Of Thrones' starlet, Emilia Clarke.
The former US Governor also talked about how today's special effects will make a difference to the new film saying "people will be really blown away", as well as revealing that he won the part of the Terminator in the original 1984 film from O.J. Simpson.