Are We Back In The Future? Michael J Fox Joins Coldplay On Stage To Recreate THAT Famous Movie Scene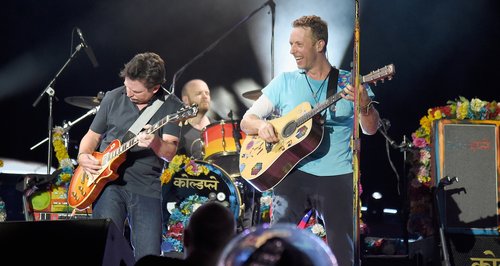 Oh how we wish we were there!
Do you remember that scene in Back To The Future when Michael J Fox's character Marty McFly rocks out to Johnny B Goode at the 1950s party and then gets totally carried away with the guitar solo and the dance floors stops to stare at the sheer ludicrousness because the song hasn't actually been released yet? Yeah, that one.
Well, in a recent turn of events, Coldplay managed to recreate that scene with a little help from Michael J Fox himself!
Coldplay are currently on the US leg of their Head Full of Dreams tour and surprised fans during the concert at New Jersey's MetLife Stadium over the weekend.
They band teased the crowds as a video of Chris Martin's son, Moses, appeared on the screen behind the band, and he asked hid dad to "play a song from our favourite movie Back To The Future".
Chris replied: "If your sons asks you to do something then let's try it!"
Coldplay then went on to perform an awesome rendition of Earth Angel, the song from the scene in the film where George and Lorraine kiss for the first time at the school dance - but the treat didn't stop there.
Incase you've forgotten the original scene from the film:
After asking the crowds: "would anyone like one more song?", on came Michael to help out on guitar!
It's not the first time that the band and the actor have recreated the famous scene. Michael joined Coldplay at a benefit for his charity the Michael J Fox Foundation for Parkinson's Research.
The whole thing has got us like: