Watch: Cute 3-year-old Sings Along To Her Disney Heroine Ariel
Part of Your World - Little Mermaid (Claire at 3 Years Old)
03:13
Most little kids have a thing for Disney Princesses, but Claire Crosby has taken her love to the next level.
The adorable toddler has been spending some time in the home studio with dad Dave, making her dreams come true.

Claire watches her work back with her father as he edits.
The little cutie has become a huge hit on the web after the home videos of her singing along to some of Disney's biggest songs have gone viral.
Dressed in a blue princess dress, with a bow in her hair, the three-year-old trills along to The Little Mermaid's classic tune 'Part of Your World'.
The footage cuts away to her playing with her father behind-the-scenes and it's clear the two had a lot of fun making the clip.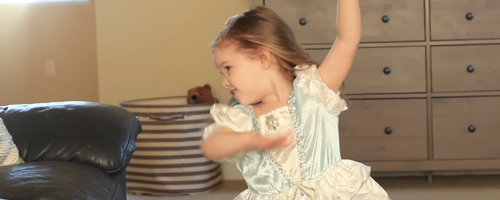 Claire dances around in her Disney Princess dress.
If Claire keeps this up, we're watching this space for the next Disney Princess character's voice!