James Corden Upstages David Beckham In Hilarious Underwear Ad!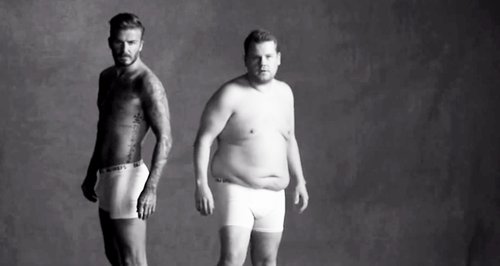 Watch the pair strip down to their boxers in a spoof for 'The Late Late Show'...
David Beckham may be known for his smouldering looks, but it seems James Corden was keen to give the former football star a run for his money in a fake advertising campaign for their very own brand of underwear appropriately named D&J.
The eye-wateringy funny comedy sketch, which debuted on Corden's new US chat show 'The Late Late Show', sees the duo strip for a black and white moody advert in the vein of Calvin Klein where they proceed to pose seductively to the camera.
James' lack of abs doesn't stop him from showing off his physique either as he stands confidently next to David, before cuddling his pal and even blowdrying his hair.
We really don't know how they both managed to keep a straight face, we certainly can't!