WATCH: The Tear-Jerking Moment When A Little Boy Is Reunited With His Lost Puppy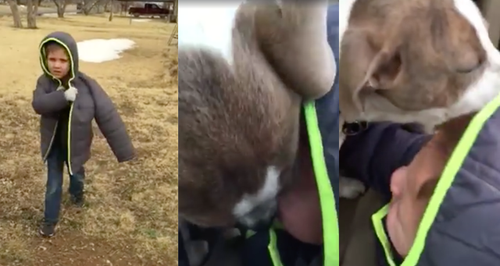 This heart-warming video captures the bond between a little boy and his puppy and has the whole of the internet in tears...
They say there's no bond like that between a dog and its owner, as this little boy can attest. Khane Williams from Lubbock, Texas was left devastated when his pet puppy, Kase, went missing in December. Please send humanitarian aid in the form of Ben & Jerry's and tissues because things are about to get a whole lot more emotional.
Anyway, after weeks of searching the youngster's mum Paula Williams discovered that the dog had been taken in by a family down the road, who had kept him warm and fed. So Khane's mum decided to capture the magical moment her little boy and his best friend, Kase, were reunited.
Sharing the video to Facebook, Paula wrote: "Just wanted to share some good news! My sons puppy went missing about a month ago and we just found him. This is the video of my son reuniting with his baby Kase!" The video, which has gone viral, has already had over 3 million views.
Right, grab the Kleenex because we guarantee there won't be a dry eye in the house after watching this...
Just wanted to share some good news! My sons puppy went missing about a month ago and we just found him. This is the video of my son reuniting with his baby Kase!* he was found right down the street from our house. A nice family had taken him in and kept him warm and fed!

Posted by Paula Williams on Friday, 8 January 2016
Admit it, this video gave you a lump at the back of your throat too…