Hats Off! Queen Elizabeth Charmed By Cheeky Boy Who Shakes Her Hand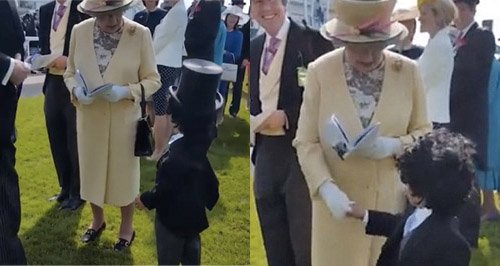 Watch as one cheeky little boy gets Queen Elizabeth to go against royal protocol...
One fearless little boy brushed aside royal protocol by walking over to the 89-year-old monarch completely uninvited before taking off his top hat and shaking her hand.
The cheeky chappy, who was a young member of the Dubai royal family, had clearly left a lasting impression on The Queen as she was seen looking bemused as he swaggered over.
There is no official protocol when it comes to meeting The Queen but a neck bow is traditional from men while women do a small curtsey.
Either way, this little boy is too cute!