Watch The Heart-Warming Moment A Rescue Dog Is Reunited With His Owner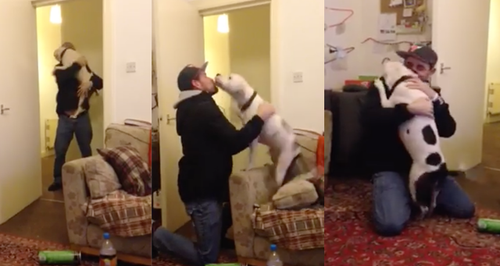 This tear-jerking video capturing the moment an excited rescue dog is reunited with his owner becomes an online hit. Prepare to sob.
They say a dog is a man's best friend, as this 27-year-old man can attest.
Mark O'Neill, who suffers from epilepsy, returned home from a week in hospital to possibly the best welcome home ever from his pet dog, Patch.
His partner, Kerrigan Renniegade filmed the tear-jerking moment when Mark was reunited with his best friend. The former stray pooch, Patch, can be seen wagging his tail as he's overcome with excitement.
Mark, who had been in hospital treated for his condition, can be heard saying: "Where's my boy? I missed you too."
Before the couple rehomed Patch from a rescue centre in May last year, he had been in kennels for five months after being found as a stray.
Now, Patch knows when Mark is about to have an epileptic fit – Kerrigan told a reporter that the dog senses when Mark is about to have a seizure and lies on top of him.
Speaking about the video, she added: "We're really happy, the reaction has been so positive. Rescue dogs are the best, and there's a lot of stigma attached to Patch's breed - so we're really glad that people are noticing that it's all about the owner and how you love the dog, rather than the breed."
Right. You grab the tissues and we'll get the industrial-sized Ben & Jerry's because things are about to get a whole lot more emotional as you watch the video below…
One of our rescue dogs has become an internet sensation after a video of him greeting his owner went viral!Patch the staffie was rehomed by Kerrigan and Mark from our Lanarkshire centre in May last year and has a really special and strong bond with Mark. When Mark had to go away for a week, Patch was lost without him. Here is the moment they were reunited :)

Posted by Scottish SPCA on Thursday, 21 January 2016
And it's not just the hearts of Mark and Kerrigan that Patch has stolen, the clip has gone viral and attracted more than 7 million views since being uploaded to Facebook three days ago by the Scottish SPCA, which originally rescued the Staffordshire bull terrier.