Watch Sarah Jessica Parker 'Fight' With Tom Hanks At Hockey Match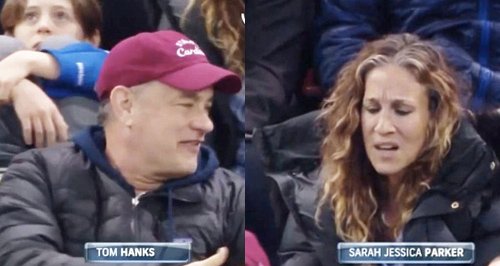 'Sex and The City' star gives the actor some SERIOUSLY dirty looks.
With a catalogue of well-known movies under his belt, its hard to believe anyone would have an issue with Tom Hanks, but eagle-eyed fans at the Los Angeles Kings vs New York Rangers ice hockey game in the Big Apple were shocked to discover the 58-year-old actor getting some serious shade from 'Sex and The City' star Sarah Jessica Parker.
In the video, captured on Vine, the blonde beauty is seen grimacing at Hanks who is joking around with his pals in front and it wasn't long before the clip went viral.
However, it turns out that Sarah was just playing and has insisted she actually "adores" the 'Forrest Gump' star despite the fact they support rival hockey teams.
In a statement she said: "We were all pretend fighting about them being Kings fans and us being Rangers fans. I adore Tom and Rita."
Phew!