Your Heart Will Melt Watching This Baby Girl Learning To Eat With Her Feet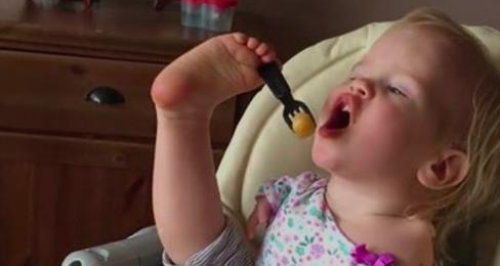 Footage of resourceful baby Vasalina's determination to feed herself by gripping a fork between her toes has taken Facebook by storm...
Ask most kids to feed themselves for the first time and you'll end up with mayhem.
But this resourceful child, who was born with no arms, has mastered the art of feeding herself with her feet!
Elmira Knutzen captured the video of her daughter Vasilina's flexibility and determination by gripping a fork between her toes and feeding herself from a bowl of food. It has been viewed more than 46 million times since it was posted and has attracted so much praise from amazed viewers.

The baby girl simply won't give up and makes repeated attempts to get the food to her mouth manipulating the fork until she finally achieves her goal.
The clip shows flexible Vasilina, who lives in Russia, using her toes to grip her fork and guide it into her mouth.
She clearly struggles as she tried a few times to get the food to her mouth but she never gives up and eventually figures out a way to feed herself.
How amazing is this?! Tell us your thoughts below...