Watch This Beautiful Marriage Proposal On A Crowded Train
8 May 2017, 12:34 | Updated: 8 May 2017, 12:39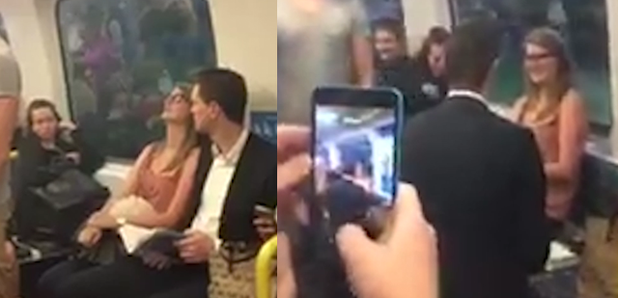 Now that's one way to make your morning commute exciting!
A busy commuter train isn't usually the chosen place for a proposal, but it was just perfect for Ryan and his fiancée Hannah who met on the same train 10 years ago.
Hannah first hears the train conductor announce he has something to say that "concerns carriage four".
"We have two of our regular commuters with us today," he continued, with footage recorded by train staff. "Hannah and Ryan first met on the train about ten years ago and Ryan has a special question he'd like to ask Hannah.
Watch the rather unique moment as Ryan gets down on one knee... (funnily enough, train proposals aren't a regular thing!)
Hannah appeared to be shocked at first but didn't take long to say yes, leading to cheers and claps from their fellow commuters on route to work.
Afterwards, on Twitter, Metro Trains said a number of employees had worked together to bring Ryan's plan to life and we're so glad they did.
If only our commute to work was this dramatic!