Adele 'confirms' she's married Rich Paul
20 November 2023, 16:04 | Updated: 20 November 2023, 17:30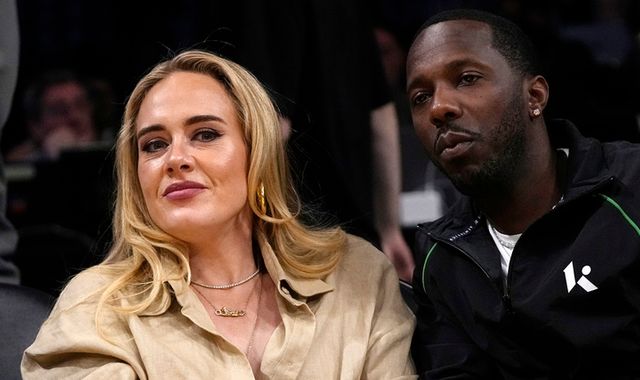 Has superstar Adele managed to wed her sports agent boyfriend Rich Paul in secret?
According to two people who reportedly attended a recent Los Angeles show by Alan Carr, the British comedian and Adele's best friend, the star made the surprise announcement in front of the crowd.
The two fans separately contacted anonymous celebrity gossip influencer Deuxmoi, who shared their accounts on their Instagram page.
"I was at Alan Carr's comedy show in LA tonight and Adele was in the audience," the first wrote. "Alan asked the crowd if anyone got married recently and Adele shouted 'I did!'."
'Super cute all round'
The second Deuxmoi contributor said they were at the same show, at "a super small and intimate venue" for "maybe 75 people", and that Adele was "was sitting right behind me with a friend having the best time".
They went on to say the star "didn't care if people knew she was there heckling" Carr as they are "best friends".
They added: "When he asked if anyone got married recently she yelled 'I did'. Super cute all round and was super sweet but dipped right before it ended".
Adele, 35, who shares a son with her ex-husband Simon Konecki, confirmed her relationship with Paul in September 2021. In an interview with Elle magazine in August last year, she denied they were married following speculation at the time.
However, she did say: "I've never been in love like this. I'm obsessed with him."
Read more:
The rise of anonymous celeb gossip sharer Deuxmoi
Audiences behaving badly: An epidemic of anti-social behaviour
Click to subscribe to Backstage wherever you get your podcasts
The star began her Weekends With Adele residency in Las Vegas in November 2022 and announced in March that she would add more dates.
Some 32 additional performances at The Colosseum at Caesar's Palace, billed as the final shows, will start on 19 January and run through to 15 June 2024.
Adele has been good friends with Carr for years, and in 2018 she reportedly married him and his now ex-husband in her back garden in Los Angeles.
Paul, 41, is the founder of management company Klutch Sports Group, which represents high-profile basketball stars including LeBron James.
Sky News has contacted representatives for Adele, Paul and Carr for comment.
(c) Sky News 2023: Adele 'confirms' she's married Rich Paul