David Cameron enters House of Lords - and officially takes up new title
20 November 2023, 14:51 | Updated: 20 November 2023, 15:55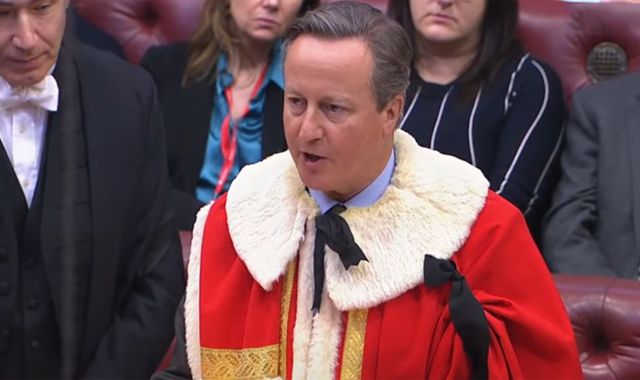 David Cameron has officially taken his seat in the House of Lords - where he will go by the title of Lord Cameron of Chipping Norton.
The foreign secretary wore the traditional scarlet robes during his short introduction, where he swore the oath of allegiance to the King.
Politics latest: Sunak thought government should 'let people die', Cummings claims
Lord Cameron was made foreign secretary in a surprise move by Rishi Sunak during his cabinet reshuffle.
He has returned to frontline politics after a seven-year hiatus following the Brexit vote in 2016.
The former prime minister had to be made a Lord in order to serve as foreign secretary as he is no longer an MP.
Lord Cameron's new title reflects his long-held ties to the Cotswold town of Chipping Norton, which lies within his former constituency of Witney.
During his time in office, the former Conservative leader was known as a member of the so-called "Chipping Norton set".
The group, featuring wealthy members of the British establishment who lived in the area, also included presenter Jeremy Clarkson and News UK chief executive Rebekah Brooks.
Lord Cameron made his first foreign trip in his new cabinet role earlier this week when he met Ukraine's President Volodymyr Zelenskyy in Kyiv.
The former prime minister's return to politics has attracted controversy due to outside interests in his period outside office, including his links to China.
His involvement with the collapsed speciality finance group Greensill Capital is likely to come under increased scrutiny.
Click to subscribe to Politics at Jack and Sam's wherever you get your podcasts
Liberal Democrat chief whip Wendy Chamberlain has written to Mr Sunak's ethics adviser, Sir Laurie Magnus, urging him to launch an investigation into Lord Cameron's appointment as foreign secretary.
"We need urgent clarity over David Cameron's financial interests, which could lead to serious conflicts of interest whilst he represents the UK on the world stage," she said.
"David Cameron has serious questions to answer over whether he can act impartially in the best interests of the British people.
"His judgement and integrity have all been questioned in recent years and for good reason."
Read more:
Cameron's Greensill connection risks haunting ex-PM's return
What does Cameron's global track record look like?
Asked about Lord Cameron's appointment last week, Mr Sunak said he was "delighted" to see him return and that his "unrivalled experience" would help Britain navigate an "uncertain world".
"Like every other government minister, he will go through the normal process with the independent adviser," he added.
(c) Sky News 2023: David Cameron enters House of Lords - and officially takes up new title