Has business stopped listening to the Conservatives?
20 November 2023, 16:41 | Updated: 20 November 2023, 17:27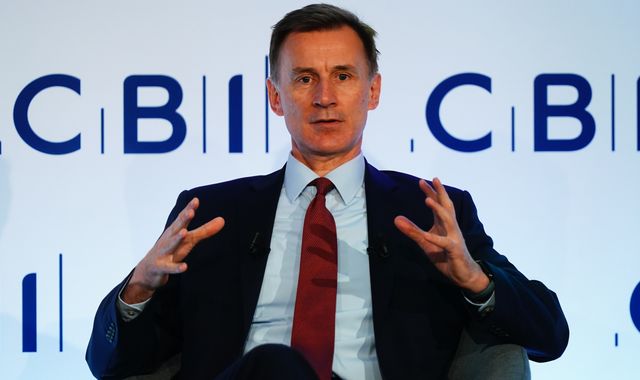 When the CBI was engulfed by a scandal in the spring it was moot whether it would even exist come the general election, let alone be hosting political leaders and lobbying as the voice of business.
Given the context, Jeremy Hunt's appearance at a CBI conference in Westminster was a seal of approval for the reform process under way at Britain's largest and historically most influential business group, and an endorsement of its director-general Rain Newton-Smith.
Whether the chancellor liked the message coming back the other way from delegates at the QEII Conference Centre is another matter.
Spending the day among representatives of companies and trade groups, it is clear that business is ready for a change of government and not afraid of what that might bring.
It is only four years since the CBI conference in London saw then-PM Boris 'f*** business' Johnson and Jeremy Corbyn give back-to-back speeches that left delegates arguing only about which was more dispiriting.
But while scepticism and frustration with Conservative governments has grown as the party has cycled through prime ministers, from Johnson to Rishi Sunak via Liz Truss, Labour's case is transformed.
That's in part the result of a concerted charm offensive.
Listen and subscribe to The Ian King Business Podcast here
Jonathan Reynolds, the shadow business secretary, told the CBI conference he felt like he had breakfast with everyone in the room and was only half-joking.
Shadow chancellor Rachel Reeves meanwhile was chairing the first meeting of a new infrastructure investment group including the chief executive of Lloyds Bank.
Perhaps, as a consequence, Labour's plan is tailored to what business wants to hear.
The top priority Mr Reynolds said was stability, from Brexit to the cancellation of HS2 via the mini-budget, the one commodity most obviously missing in the last decade.
Reform of planning and a commitment to an Industrial Strategy, centred on a Green New Deal that will throw up to £20bn a year - less than initially planned - at the energy transition and net zero, also chimes with big businesses seeking certainty of investment.
The offer to SMEs (small and medium enterprises) is less clear, and Mr Reynolds would not be drawn on Labour's approach to taxes, but right now that seems to matter less than the mood.
There was no more telling sign of that than when a dig at Rishi Sunak - "I will not be taking lectures in consistency from the PM" - was met with laughter and a smattering of applause.
Ms Newton-Smith says the CBI is agnostic about who is in power and welcomed the fact both major parties are focused on delivering growth, but was unequivocal about the damage that recent events have done to the investment climate.
The prime minister's abrupt cancellation of HS2 has added a "risk premium" to the UK, she said and, following the easing of the deadline for the ban on new petrol and diesel cars, Britain needs to "regain leadership" in the industrial response to climate change.
Read more:
Sunak promises to cut taxes as autumn statement looms
Hunt to review payment rules in post-Brexit fraud push
When Mr Hunt took the stage he insisted the autumn statement would deliver a plan for growth, driven by three areas in which the UK is a world leader; life sciences, tech and creative industries, and guided by existing strength in academia and financial services.
He also pointed to measures announced this weekend to reform planning and speed up the expansion of the electricity grid.
Above all he pleaded for patience, saying the measures he will announce on Wednesday should be judged on their impact in five years, not the following morning's headlines.
The worry for Mr Hunt and the Conservatives is, remarkably for a party once indivisible from the interests of wealth creators, business may have stopped listening.
One should not read too much into the reaction of a few hundred people at an event run by an organisation in the early stages of recovery from its own crisis, but it would be bold to ignore it.
(c) Sky News 2023: Has business stopped listening to the Conservatives?