Measles warning amid 'devastating resurgence' of life-threatening diseases as vaccination rates miss targets
20 November 2023, 16:20 | Updated: 21 November 2023, 07:15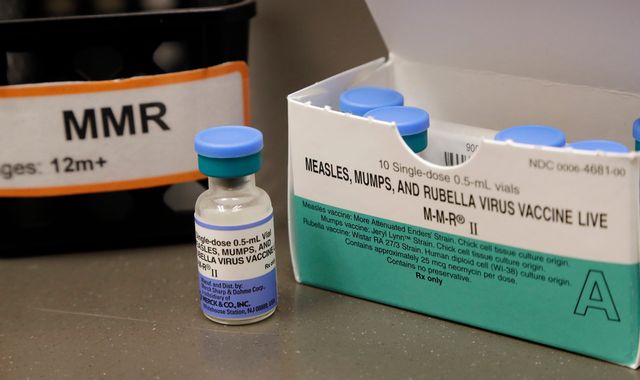 Doctors have been told to keep a close watch for symptoms of measles infections in children amid a "devastating resurgence of virtually eliminated life-threatening diseases" in the UK.
For the first time in decades, the Royal College Of Paediatrics And Child Health (RCPCH) has issued national guidance on the treatment of measles - and has called on the government to immediately publish its "overdue" national vaccination strategy.
NHS data for this year shows no vaccines met the World Health Organisation's 95% coverage target in England - with the vaccination rate falling to the lowest level since 2010/11.
The RCPCH said many paediatricians would not have previously seen symptoms associated with measles in their careers and urged healthcare workers to check the immunisation status of all children attending hospital.
A sharp increase in the number of measles cases has been seen across the UK this year as vaccination rates for those aged under five fall to their lowest level in a decade.
Parents were warned in May to check the MMR (measles, mumps and rubella) vaccination status of their children before the summer holidays.
On its new guidance, the RCPCH said: "The UK is now seeing a devastating resurgence of virtually eliminated life-threatening diseases, such as measles.
"Evidence also shows that lower socioeconomic status was associated with lower coverage."
Last year, the government consulted healthcare workers and the public on how to improve vaccination services by addressing accessibility, misinformation, and distrust of vaccines - with the RCPCH calling for the strategy's "swift publication".
'Many paediatricians fear outbreaks this winter'
Dr Camilla Kingdon, who is president of the RCPCH, said: "Having to consider measles in our national guidance for the first time in decades is a disappointing but necessary move.
"Vaccination coverage for children under the age of five is now the lowest it has ever been in the past 10 years.
"We are already starting to see the effects of this with measles outbreaks occurring in London, Wales and Leicester.
"Many paediatricians I know live in fear of potential measles outbreaks this winter.
"The winter period is always an extremely tough time for all health care professionals, with high surges in RSV and influenza, as well as circulating COVID-19 and Group A Strep.
"To add another highly contagious and dangerous disease into the mix would be disastrous and could bring our already fragile system to its knees.
"We now find ourselves once again asking the government, where is the long-awaited vaccination strategy?
"The UK government must acknowledge these low uptake figures and focus its attention on ensuring equal access to vaccinations across all regions and socioeconomic groups."
The RCPCH guidance also recommends healthcare professionals promote the MMR vaccination to all unimmunised children.
Government figures for 1 January to 30 September showed 149 cases of measles in England, as confirmed by laboratory testing.
Most of the cases were in London, which in July was warned could face an outbreak of 160,000 cases because of low vaccination levels, according to the UK Health Security Agency.
Measles symptoms to look out for
The NHS website says the measles infection can spread "very easily" and can lead to serious health problems for some people.
The infection normally starts with cold-type symptoms, followed by a rash a few days later.
People may also get spots in their mouth, the NHS says.
The first symptoms to look out for include a high temperature, a runny or blocked nose, sneezing and coughing.
Red, sore, watery eyes are also an early sign.
It is unlikely to be measles if you have had it before - or have been given the MMR vaccine.
The infection can also be serious in pregnancy and for people with a weakened immune system.
If measles is suspected, people should contact their GP by phone before going into the surgery.
People can also dial 111 for help or use the NHS 111 website.
(c) Sky News 2023: Measles warning amid 'devastating resurgence' of life-threatening diseases as vaccination rates miss targets