Middle class shoplifters partly to blame for rise in retail crime, says Marks & Spencer chairman
21 November 2023, 10:34 | Updated: 21 November 2023, 11:57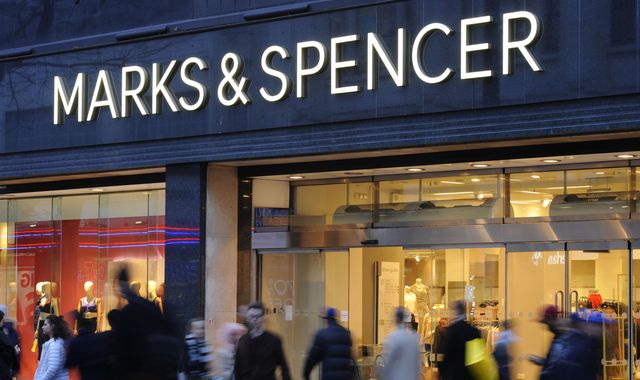 Middle class shoplifters who steal items while going through self-checkouts are partly to blame for the rise in retail crime, the chairman of Marks & Spencer has said.
Archie Norman described the surge in thefts from shops as a "social phenomenon", which has become a "global problem".
He told LBC's podcast Money with David Buik and Michael Wilson it was "too easy" to blame the cost of living crisis and said it is not just down to professional criminals stealing steaks to sell at the pub.
"Some of it is by gangs or people stealing to fuel a drugs habit," he said. "No doubt that's probably increased a bit, it's always been there.
"Then you get the sort of middle class... with the reduction of service you get in a lot of shops, a lot of people go in and think, 'well this didn't scan or it's very difficult to scan these things through and I shop here all the time, it's not my fault, I'm owed it'.
"So you see with the self-checkouts... just a bit of that creeping in."
He said M&S; was less attractive to shoplifters who want to sell items on eBay because their shops stock a lot of their own brand products.
Steaks, batteries and razor blades are displayed in areas where staff can keep an eye on them, while they do not generally sell branded spirits or skin care products, he said.
Waitrose boss Dame Sharon White last month said brazen shoplifters looking for a particular brand of sold-out gin warned staff they would return when it was back in stock.
Dame Sharon - chair of the John Lewis Partnership - said organised gangs are stealing high-value items to order and described the trend as "profoundly shocking".
She previously warned retail crime was reaching "epidemic levels", with the business facing a £12m hit from shoplifting.
Recorded offences rose by 25% in the year to June, according to police data for England and Wales released last month.
The government has announced a new national intelligence unit to tackle organised shoplifting gangs, with 13 major retailers - including Tesco, the Co-op, John Lewis and M&S; - contributing £60,000 over two years, and the Home Office £30,000, to fund the new squad.
Police have also made renewed commitments to attend the scene of more shoplifting incidents where there is violence or security staff have stopped a suspect.
But Mr Norman said he thinks that forces are "not that interested anymore" because they "they have got better things to worry about probably".
(c) Sky News 2023: Middle class shoplifters partly to blame for rise in retail crime, says Marks & Spencer chairman