Professor Sir Chris Whitty to give evidence to COVID inquiry today
20 November 2023, 16:26 | Updated: 21 November 2023, 07:57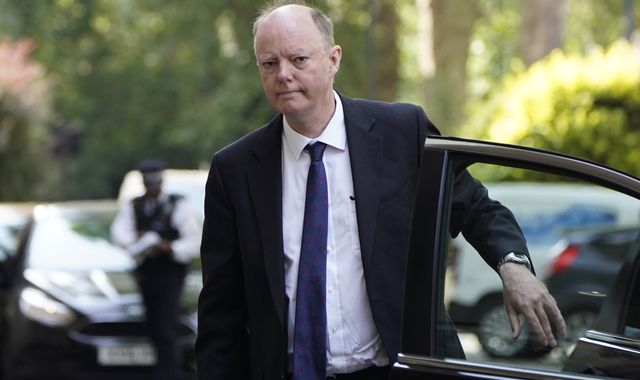 Professor Sir Chris Whitty, England's chief medical officer, will be the latest high-profile figure to reveal his first-hand experience of the COVID pandemic when he gives evidence to the inquiry later today.
Sir Chris became a household name alongside the chief scientific adviser, Sir Patrick Vallance, when the pair appeared alongside politicians at the daily COVID news conferences.
As chief medical officer, Sir Chris is responsible for providing public health and clinical advice to the Department of Health and the rest of government. Along with Sir Patrick, he helped steer the UK through the unprecedented crisis.
Before he was launched into the limelight, Sir Chris played a leading role advising on the UK response to the Ebola epidemic in 2014 as chief scientific adviser to the Department for International Development.
He has previously given evidence to module one of the inquiry, which looked at how prepared the UK was for a pandemic when COVID-19 struck.
Sir Chris said during that module that the UK did "not have the ability to scale up" quickly to deal with the pandemic in areas such as testing, and that the non-pharmaceutical interventions - social measures such as quarantine, individual isolation, closing schools - were not new and some went back to the Middle Ages.
Follow latest: Why Cameron's re-entry into Westminster was 'like he'd never been away'
In WhatsApp messages leaked to The Daily Telegraph by journalist Isabel Oakeshott after she helped write Matt Hancock's book, Pandemic Diaries, it was revealed that Sir Chris advised against imposing a lockdown "sex ban" because couples were "not likely to listen" to orders to stay apart.
But it is module two of the inquiry, on decision-making, that is more overtly political and is likely to generate the most headlines.
His colleague at the time, Sir Patrick, was doing just that yesterday, telling the inquiry about some of the reflections he had written in his contemporaneous diary.
Tensions between politicians and scientists, and among themselves, were palpable.
'Just let people die'
Among the most eye-catching claims yesterday was that Dominic Cummings, Boris Johnson's former chief adviser, had said that Rishi Sunak thought the government should "just let people die" rather than see the country go into another lockdown.
Sir Patrick's diary entry said Mr Cummings made the remark during a heated meeting over whether to impose stricter pandemic measures in October 2020.
In the extract, shown to the inquiry on Monday, Sir Patrick said Mr Johnson had argued against any lockdown, saying he was for "letting it all rip" and that those who would die from contracting the virus had "had a good innings".
Sir Patrick then detailed a row between Mr Johnson and his chief adviser, with Mr Cummings calling for the PM to act, but the former prime minister was "getting very frustrated" and "throwing papers down" in the meeting, before saying he did not want another lockdown.
The meeting ended with an agreement to "beef up" the tier system being implemented across the country at the time and to "consider a national lockdown".
Sir Patrick also wrote: "DC [Dominic Cummings] says 'Rishi thinks just let people die and that's OK'."
Sir Patrick also told the inquiry that neither he nor Sir Chris knew about the Eat Out to Help Out scheme before it was announced, but that they felt it was "very obvious to anyone that this inevitably would cause an increase in transmission risk, and I think that would have been known by ministers".
Mr Sunak's witness statement refutes this, saying: "I don't recall any concerns about the scheme being expressed during ministerial discussions" - including those attended by Sir Patrick and Sir Chris.
'We found it useful to work together'
Sir Patrick was also asked about differences of opinions he had with the chief medical officer in the early stages of the pandemic after scientist Sir Jeremy Farrar wrote his own diary entry in which he described "friction" between the two.
Asked whether there was tension between himself and Sir Chris, Sir Patrick said the chief medical officer was a public health specialist who was rightly concerned about the adverse effects of interventions such as lockdown.
Read more:
Analysis: PM will have to answer serious allegations at the COVID inquiry
Coronavirus laws were confusing, says ex-home secretary Priti Patel
He said Sir Chris was "concerned that there would be more than just the issue of the direct cause of death from the virus", including the impact on the NHS, isolating, mental health and loneliness as well as "indirect long term consequences" such as poverty.
"And that I think is a totally appropriate worry from the chief medical officer and a legitimate public health concern throughout," Sir Patrick said.
"And I didn't have exactly the same worry. I was more on the side of we need to move on this, but I think that's partly why the two of us found it useful to work together."
If Sir Patrick's testimony is anything to go by, then the inquiry will likely be braced for further revelations later today.
(c) Sky News 2023: Professor Sir Chris Whitty to give evidence to COVID inquiry today