Rapist given lighter sentence due to 'immaturity' at time of Grangemouth assaults
21 November 2023, 15:07 | Updated: 21 November 2023, 16:44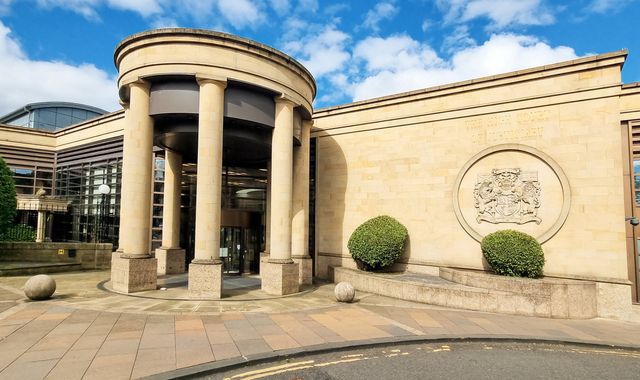 A teenage rapist has been jailed for six-and-a-half years for a series of sex attacks.
Liam Hughes raped three schoolgirls - aged 14 and 15 - and sexually assaulted another 15-year-old girl.
The 18-year-old, of Grangemouth, committed the offences in the Falkirk town between 2020 and 2022.
Hughes was told by a judge that he would have been spending longer behind bars had he been older at the time of his crimes.
Lord Young said what Hughes did as an "immature teenager is less blameworthy than if you had carried out these acts as an older man".
The judge said he had taken into account the guidelines for sentencing under-25s.
'None of this excuses your crimes'
He said: "You committed these offences when you were aged 15 and 16, although the last offence was committed a few months before your 17th birthday.
"I consider that you were an emotionally immature young man at the time of these offences, not helped by having ready access to alcohol and illegal drugs.
"You have also suffered from some mental health issues in your teens.
"None of this excuses your crimes, nor does it help the young women who you have harmed, but it is important to acknowledge that what you did as an immature teenager is less blameworthy than if you had carried out these acts as an older man.
"For that reason, the period of time which you will spend in detention for these offences will be shorter than an adult man would be sentenced for the same offences."
New guidelines for sentencing under-25s came into effect in Scotland in January 2022.
The Scottish Sentencing Council recommended a more "individualistic approach" to take account of the perpetrator's life experiences.
The changes were made to help reduce reoffending by focusing on rehabilitation rather than punishment.
Read more from Sky News:
Man who raped and burned woman alive given lighter sentence due to age
Rapist who attacked girls given lighter sentence due to 'immaturity'
Men given lighter prison sentences for attempted murder
Hughes was convicted of four charges of rape and a single charge of sexual assault following a trial at the High Court in Stirling last month.
He was sentenced at the High Court in Glasgow on Tuesday.
On bail
Lord Young noted that Hughes committed three of the rapes while he was on bail.
The judge said: "The start of police involvement - far from being a wake-up call to you - seems to have had the opposite effect."
In relation to one of the attacks, the court heard Hughes arranged to meet a 15-year-old girl he "hardly knew", raped her in woodland and then walked away.
The judge said: "I have been provided with a victim impact statement from one of the young women which explains the significant effect which your attack has had on her mental health, her schooling and ultimately her hopes for the future.
"It is a reasonable assumption that your other victims will also have suffered similar harm."
Hughes was given an extended sentence and will be supervised for three-and-a-half years on his release from prison.
He has also been added to the sex offenders' register for an indefinite period.
Lord Young said the extended sentence has been put in place to protect the public - primarily young women - from further serious harm.
The judge said: "While I hope that my concern proves unfounded, that risk is too high for me to ignore."
Lord Young cited the criminal justice social work report, noting that Hughes had been deemed a medium risk of reoffending.
The judge added: "That report points out that you seek to deflect all responsibility for your actions by blaming your victims and that unless you can change that way of thinking, the risk of reoffending will not reduce."
Police Scotland branded Hughes a "sexual predator".
Following the court case, Detective Inspector Forbes Wilson said: "I would like to acknowledge how difficult it is for victims of serious sexual assault to stand up to their attacker and face them in court.
"Hughes is a sexual predator who is now behind bars, and he can no longer force himself on other young girls.
"If anyone is a victim of sexual assault or abuse, please report it to us in the knowledge we will do everything in our power to arrest the perpetrator."
(c) Sky News 2023: Rapist given lighter sentence due to 'immaturity' at time of Grangemouth assaults