Susana Jamaladinova: Ukrainian 2016 Eurovision winner placed on Russia's wanted list
20 November 2023, 14:54 | Updated: 20 November 2023, 16:56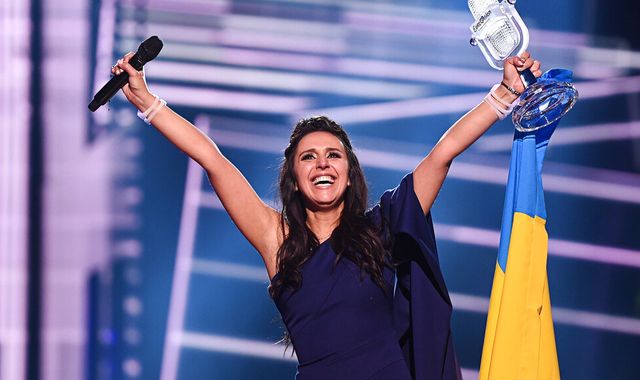 Moscow has put a Ukrainian singer who won the 2016 Eurovision Song Contest on its wanted list, according to reports in Russia.
Susana Jamaladinova, who performs under the stage name Jamala, was charged under a law introduced in 2022 which bans spreading so-called fake information about the Russian military and the ongoing fighting in Ukraine, according to the Russian independent news site Mediazona.
A listing in a Russian interior ministry database says she is being sought for violating a criminal law, Russian state news agencies have reported.
Follow latest: Russian police scramble to break up 'first' war protest
Jamaladinova, who is of Crimean Tatar descent, won Eurovision with her song 1944.
The title refers to the year the Soviet Union deported nearly 200,000 Crimean Tatars from Crimea.
Her winning performance came almost exactly two years after Russia annexed Crimea as political turmoil gripped Ukraine in 2014.
Most other countries regard the annexation as illegitimate.
Russia protested against 1944 being allowed in the competition, saying it violated rules against political speech in Eurovision.
Read more:
How a network of chess players helped whisk Ukrainian woman to safety
Ukraine war not at 'stalemate', Zelenskyy says
However, the song made no specific criticism of Russia or the Soviet Union, although it drew such implications, opening with the lyrics: "When strangers are coming, they come to your house, they kill you all and say 'We're not guilty.'"
Ms Jamaladinova has appeared on the wanted list as Russia continues its war on Ukraine - with fears the capital Kyiv will come under winter bombardment after a series of drone attacks on the city.
According to OVD-Info, a prominent rights group that monitors political arrests and provides legal aid, a total of 19,834 Russians have been arrested between February 24, when the war began, and late October 2023 for speaking out against or demonstrating against the war.
Nearly 750 people have faced criminal charges for their anti-war stances, and more than 8,100 faced petty charges of discrediting the army, punishable by a fine or a short stint in jail.
Earlier this month the wives of deployed Russian soldiers conducted what was probably the first public street protest in Moscow against the invasion of Ukraine, the Ministry of Defence has said.
Russian police reportedly broke up the Teatralnaya Square protest in minutes.
(c) Sky News 2023: Susana Jamaladinova: Ukrainian 2016 Eurovision winner placed on Russia's wanted list